Bart Simpson (.EPS) logo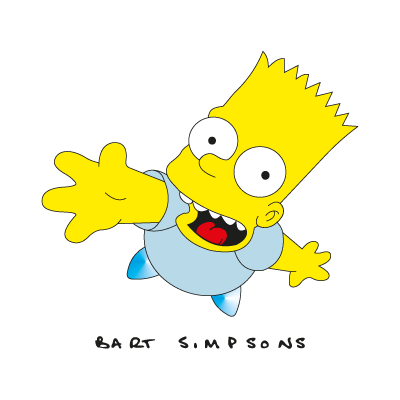 – Free download Bart Simpson (.EPS) logo vector in .EPS format
Bartholomew JoJo "Bart" Simpson is a fictional main character in the animated television series The Simpsons and part of the Simpson family. He is voiced by actress Nancy Cartwright and first appeared on television in The Tracey Ullman Show short "Good Night" on April 19, 1987. Bart was created and designed by cartoonist Matt Groening while he was waiting in the lobby of James L. Brooks' office. Groening had been called to pitch a series of shorts based on Life in Hell but instead decided to create a new set of characters. While the rest of the characters were named after Groening's family members, Bart's name was an anagram of the word brat. After appearing on The Tracey Ullman Show for three years, the Simpson family received its own series on Fox, which debuted December 17, 1989.
At ten years old, Bart is the eldest child and only son of Homer and Marge, and the brother of Lisa and Maggie. Bart's most prominent character traits are his mischievousness, rebelliousness and disrespect for authority. He has appeared in other media relating to The Simpsons, including video games, The Simpsons Movie, The Simpsons Ride, commercials, and comic books; he has also inspired an entire line of merchandise. In casting, Nancy Cartwright originally planned to audition for the role of Lisa, while Yeardley Smith tried out for Bart. Smith's voice was too high for a boy, so she was given the role of Lisa. Cartwright found that Lisa was not interesting at the time, so instead auditioned for Bart, which she thought was a better role. Hallmarks of the character include his chalkboard gags in the opening sequence; his prank calls to Moe the bartender; and his catchphrases "Eat my shorts", "¡Ay, caramba!", and "Don't have a cow, man!"
During the first two seasons of The Simpsons (1989–1991), Bart was the show's breakout character and "Bartmania" ensued. Bart Simpson T-shirts sporting various slogans and catchphrases became popular, selling at a rate of a million per day at their peak. The song "Do the Bartman" became a number one charting single and the seventh best-selling song of 1991 in the United Kingdom. Bart's rebellious attitude and pride at underachieving caused many parents and educators to cast him as a bad role model for children. A T-shirt reading "I'm Bart Simpson. Who the hell are you?" was banned in several public schools. Around the third season, the series started to focus more on the family as a group, although Bart remains one of the most prominent characters on the series. Time named Bart one of the 100 most important people of the 20th century, and he was named "entertainer of the year" in 1990 by Entertainment Weekly. Nancy Cartwright has won several awards for voicing Bart, including a Primetime Emmy Award in 1992 and an Annie Award in 1995. In 2000, Bart, along with the rest of his family, was awarded a star on the Hollywood Walk of Fame.