Big Boy logo vector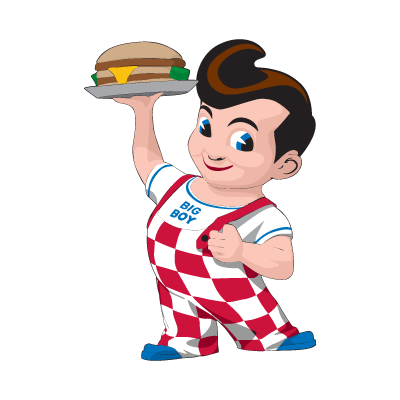 About Big Boy
Big Boy Restaurants International LLC is a restaurant chain with its headquarters in Warren, Michigan, in Greater Detroit.
Big Boy was started in 1936 by Bob Wian, in partnership with Arnold Peterson in Glendale, California, USA. Marriott Corporation bought the chain in 1967. One of the larger franchise operators, Elias Brothers, purchased the chain from Marriott in 1987, moving the headquarters of the company to Warren, Michigan, and operating it until declaring bankruptcy in 2000. Following the bankruptcy, the chain was sold to investor Robert Liggett, Jr., who took over as Chief Executive Officer, renamed the company Big Boy Restaurants International and kept the headquarters in Warren. The company is the franchisor for 126 Big Boy restaurants in the United States.
Immediately after Liggett's purchase, Liggett Restaurant Enterprises dba Big Boy Restaurants International negotiated an agreement with the other large franchise operator, Frisch's Restaurants transferring to Frisch's exclusive, perpetual ownership of Big Boy marks in Kentucky, Indiana, and most of Ohio and Tennessee, and transferring all other Frisch's territories to Liggett. Big Boy International and Frisch's now are co-registrants of the Big Boy name and trademark. Thus Frisch's is no longer a franchisee but a substantially equal owner which operates almost as many units as Liggett. Frisch's is the owner or franchisor of 118 Big Boy restaurants in the United States.