Clube de Regatas do Flamengo logo vector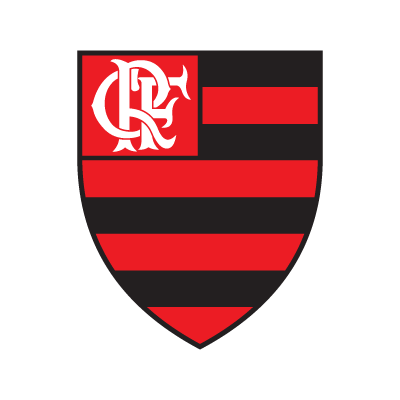 About Clube de Regatas do Flamengo
Clube de Regatas do Flamengo, also known as Flamengo and familiarly as Mengao, is a Brazilian sports club based in Rio de Janeiro, best known for its professional football team. They play in the Campeonato Carioca, Rio de Janeiro's state league, and the Campeonato Brasileiro Série A or Brasileir?o, Brazil's national league, and are one of the only five clubs to have never been relegated, along with Santos, S?o Paulo, Internacional and Cruzeiro. Flamengo was a founding member of the Clube dos 13 group of Brazil's leading football clubs.
The club was established in 1885, although it played its first official game in 1912. Flamengo have won the Brasileir?o on six occasions, most recently in the 2009 season, the Copa do Brasil twice and the Campeonato Carioca a record 32 times. Due to its low capacity, Flamengo's home stadium, Gávea, is rarely used and the club ops for the government owned Maracan?, the biggest football stadium in Brazil, with a capacity of 82,238. Since the Maracan? is now going through a renovation to host the 2014 FIFA World Cup and 2016 Summer Olympics, the Engenh?o is currently being used to host Flamengo matches.
Its traditional playing colors are scarlet and black hooped shirts with white shorts and red socks. In 1981, Flamengo became the first Carioca team to win the Copa Libertadores, the most prestigious laurel in South American football.: the team, subsequently known as the Geraç?o de Ouro, defeated Cobreloa 2–0 in the Estadio Centenario in Montevideo to reach the pinnacle of their careers. That same year, Flamengo won the 1981 state title, completing the club's first ever double. The club has also won the Copa dos Campe?es, Intercontinental Cup, Copa Ouro and Copa Mercosur once each. Flamengo also reached the final of the Supercopa Sudamericana in 1993 and 1995, but were beaten by S?o Paulo and Independiente, respectively.
Flamengo is the most popular team in Brazil, with over 36 million followers as of 2010, and was voted by FIFA as one of the most successful football clubs of the 20th century. It is also one of Brazil's richest football clubs in terms of revenue, with an annual revenue of R$120.0m, and the second most valuable club in South America, worth over R$308.3 in 2011. The club has long-standing rivalries with near neighbors Fluminense, Botafogo and Vasco da Gama.