Discovery Channel (formerly The Discovery Channel) is an American satellite and cable TV channel that provides documentary programming focused primarily on popular science, technology, and history. A popular annual feature is Shark Week.
1985–1987

This was the very first logo used by The Discovery Channel.
1987-1993

This "Discovery" logo was adopted in 1987.
1995-2003
In 1995-2003, a globe and the word "Channel" were there. "The" was removed from the channel's name and the half-circle was swapped for a globe. They also launched a new tagline, "Explore Your World".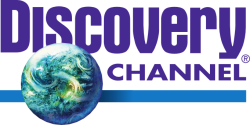 2000-2008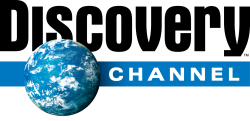 In 2000-2008, the word "Channel" and the world were there. moved into the strap. The globe icon was also changed, so that it focused on the Pacific Ocean instead of any continents (the Americas can be seen on its right and Australia on its left).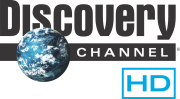 A high-definition simulcast of Discovery Channel was launched in September 2007. This logo was replaced in April 2008, along with the main logo.

2008-2009

A new logo was launched in 2008. It was designed by Viewpoint Creative, who were also behing the new graphics for the channel. The channel also got a new tagline, "The World is Just Awesome".
2009-Present


In 2009, The word "Channel" and the new globe were added by Royale. They also altered the logo slightly, making the word "CHANNEL" bigger and completely detaching the globe from the D.
Another vector logos: