Recommend: >> Free download all NFL team logos vector
San Francisco 49ers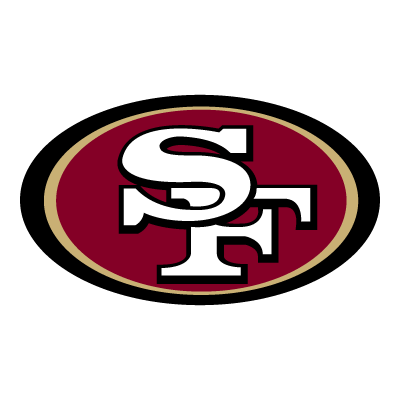 > Free download San Francisco 49ers logo vector in .AI format
About San Francisco 49ers
The San Francisco 49ers are a professional American football team based in San Francisco, California, playing in the West Division of the National Football Conference (NFC) in the National Football League (NFL). The team was founded in 1946 as a charter member of the All-America Football Conference (AAFC) and joined the NFL in 1949 after the two leagues merged.
When owned by the DeBartolo / York families the 49ers became known for having one of the NFL's greatest dynasties, winning an astounding five Super Bowl championships in just 14 years, between 1981 and 1994, winning four of those championships in the 1980s. The Super Bowl teams were led by Hall of Famers Joe Montana, Jerry Rice, Ronnie Lott, Steve Young, and coach Bill Walsh. With five Super Bowl wins,the 49ers are tied with the Dallas Cowboys for the second-most Super Bowl wins. The Pittsburgh Steelers are in first place with six Super Bowl wins. The 49ers remain the only team in NFL history to appear in more than one Super Bowl without ever losing. On February 3, 2013, the 49ers will play in Super Bowl XLVII in New Orleans against the Baltimore Ravens. The coaches of the Baltimore Ravens (John Harbaugh) and the San Francisco 49ers (Jim Harbaugh) are brothers, which marks the first time two brothers who are NFL head coaches have coached against each other in Super Bowl history.
The name "49ers" comes from the name given to the gold prospectors who arrived in Northern California around 1849 during the California Gold Rush. The name was suggested to reflect the voyagers who had rushed the West for gold. It is the only name the team has ever had and San Francisco is the only city in which it has resided. The team is legally and corporately registered as the San Francisco Forty Niners, Ltd., and is the oldest major professional sports team in California. Major League Baseball did not arrive for a few more years when the New York Giants and Brooklyn Dodgers moved to San Francisco and Los Angeles, respectively. The Philadelphia Warriors and Minneapolis Lakers moved to California in the 1960s, and the Oakland Seals and Los Angeles Kings became the first NHL teams in the state in 1967. The Cleveland Rams arrived in Los Angeles in 1946. The 49ers and Los Angeles Rams were cross-state rivals until 1994, when the present St. Louis Rams left Southern California.
Another vector logos: