Ecuador logo vector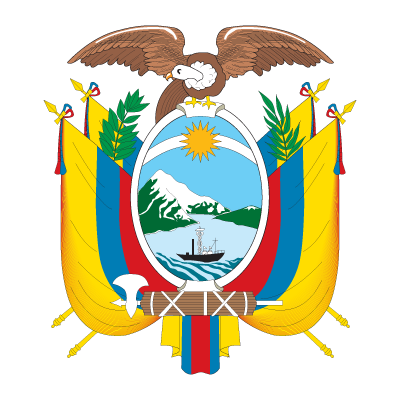 About Ecuador
Ecuador, officially the Republic of Ecuador is a representative democratic republic in South America, bordered by Colombia on the north, Peru on the east and south, and by the Pacific Ocean to the west. It is one of only two countries in South America, along with Chile, that do not have a border with Brazil. The country also includes the Galápagos Islands in the Pacific, about 1,000 kilometres (620 mi) west of the mainland.
The main spoken language in Ecuador is Spanish. Languages of official use in native communities include Quichua, Shuar, and 11 other languages. Ecuador has an area of 258,238 km2 (99,706 sq mi). Its capital city is Quito, which was declared a World Heritage Site by UNESCO in the 1970s for having the best preserved and least altered historic center in Latin America. The country's largest city is Guayaquil. With its international port and tuna fishing industry, Manta is the third most important city in the country economically. The historic center of Cuenca, the third largest city in the country, was also declared a World Heritage Site in 1999, for being an outstanding example of a planned inland Spanish style colonial city in the Americas. Ecuador is also home to a great variety of species, many of them endemic, like those of the Galápagos islands. This species diversity makes Ecuador one of the 17 megadiverse countries in the world. The new constitution of 2008 is the first in the world to recognize legally enforceable Rights of Nature, or ecosystem rights.
Ecuador is a presidential republic and became independent in 1830, after having been part of the Spanish colonial empire, and for a much shorter time of the republic of Gran Colombia. It is a medium-income country with an HDI score of 0.720 (2011).