About iPod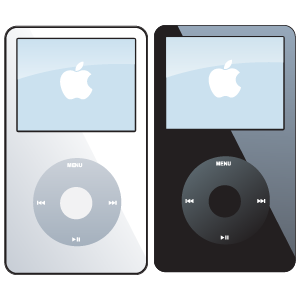 iPod is a line of portable media players created and marketed by Apple Inc.. The product line-up consists of the hard drive-based iPod classic, the touchscreen iPod touch, the compact iPod nano and the ultra-compact iPod shuffle. iPod classic models store media on an internal hard drive, while all other models use flash memory to enable their smaller size (the discontinued mini used a Microdrive miniature hard drive). As with many other digital music players, iPods can serve as external data storage devices. Storage capacity varies by model, ranging from 2 GB for the iPodshuffle to 160 GB for the iPod classic. The iPod line was announced by Apple on October 23, 2001, and released on November 10, 2001.
All of the models have been redesigned multiple times since their introduction. The most recent iPod redesigns were introduced on September 1, 2010. Apple's iTunes software can be used to transfer music to the devices from computers using certain versions of Apple Macintosh and Microsoft Windows operating systems. For users who choose not to use iTunes or whose computers cannot run iTunes, several open source alternatives are available for the iPod. iTunes and its alternatives may also transfer photos, videos, games, contact information, e-mail settings, Web bookmarks, and calendars to iPod models supporting those features. Discontinued models of the line include the iPod mini and the iPod photo, the former being replaced by the iPod nano, and the latter reintegrated into the main iPod line (now the iPod classic).
In iOS versions prior to iOS 5, the iPod branding is also used for the media player applications included with the iPhone and iPad; the iPhone version is essentially a combination of the Music and Videos apps on the iPod touch. As of iOS 5, separate apps named 'Music' and 'Video' are standardized across all iOS-powered products. While the iPhone and iPad have essentially the same media-player capabilities as the iPod line, they are generally treated as separate products. In the last few years, iPhone and iPad sales have overtaken those of the iPod.