Galatasaray SK logo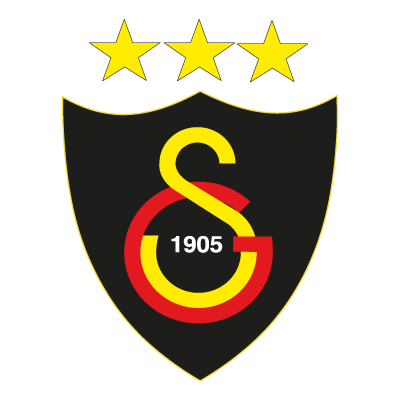 About Galatasaray SK
Galatasaray Spor Kulubu, commonly known as Galatasaray and founded as Galata-Serai Football Club by Ali Sami Yen in 1905, is a Turkish professional football club based in Istanbul, Turkey. It is the association football branch of the larger Galatasaray Sports Club, itself a part of the Galatasaray Community which includes the Galatasaray University and Galatasaray Lise.
Galatasaray is the most successful football club in Turkey, having won 44 domestic trophies including a joint-record 18 Süper Lig titles, a record 14 Turkish Cups and a record 12 Turkish Super Cups. They are one of three teams to have participated in all 55 seasons of the Turkish Süper Lig since 1959, following the dissolution of the Istanbul Football League. Internationally, Galatasaray has also won the UEFA Cup and UEFA Super Cup in 2000, becoming the first Turkish team to win a European trophy and the first team in history to become the undefeated winners of the UEFA Cup. Domestically, Galatasaray is the only football club to win the Süper Lig four times in a row (1997, 1998, 1999 and 2000). In the 1999-2000 season, the club achieved the rare feat of completing a quadruple by winning the Turkish Süper Lig, the Turkish Cup, the UEFA Cup and the TSYD Cup in a single season. It is also the only Turkish club to appear in first place on the IFFHS World Rankings in 2000.
Since 2011, the club's stadium is the 52,695 capacity Türk Telekom Arena in Seyrantepe, Istanbul which is the world record-holder for the loudest stadium roar in world football (131.76dBA), having moved from the Ali Sami Yen which had been home to the club since 1963.
The club has a long-standing rivalry with other large Istanbul teams, namely with Besiktas J.K and Fenerbahçe S.K., while the derby between the latter (known as the Kitalar Arasi Derbi or "Intercontintal Derby" in English) is regarded as one of the biggest in world football.
Galatasaray is also the most-supported club in Turkey and is one of three clubs to have over 10 million followers on social media sites Facebook and Twitter. They have an estimated 25 million fans, with around 38% coming from outside Turkey. Galatasaray is also regarded as one of Turkey's strongest global brands and is placed as one of the up-and-coming clubs in the Deloitte Football Money League (2013) with an annual revenue of €95.1 million.