GTA Vice City Woman logo vector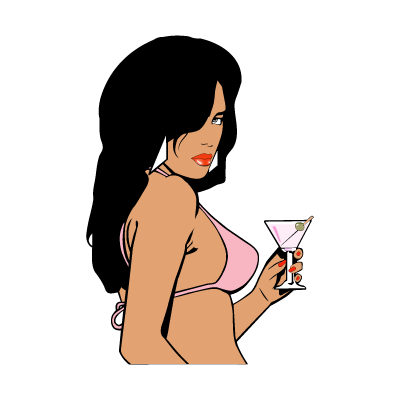 About GTA Vice City Woman
Grand Theft Auto: Vice City is a 2002 open world action-adventure video game developed by Rockstar North (formerly DMA Design) in the United Kingdom and published by Rockstar Games. It is the second 3D game in the Grand Theft Auto video game franchise and sixth original title overall. It debuted in North America on October 29, 2002 for the PlayStation 2 and was later ported to the Xbox, and Microsoft Windows in 2003. It was made available on Steam on January 4, 2008, and on the Mac App Store on August 25, 2011.xl96 A Nintendo GameCube version was planned, but was never released. Vice City was preceded by Grand Theft Auto III and followed by Grand Theft Auto: San Andreas.
Vice City draws much of its inspiration from 1980s American culture. Set in 1986 in Vice City, a fictional city modeled after Miami, the story revolves around Mafia hitman Tommy Vercetti, who was recently released from prison. After being involved in a drug deal gone wrong, Tommy seeks out those responsible while building a criminal empire and seizing power from other criminal organizations in the city. The game uses a tweaked version of the game engine used in Grand Theft Auto III and similarly presents a huge cityscape, fully populated with buildings, vehicles, and people. Like other games in the series, Vice City has elements from driving games and third-person shooters, and features an open world gameplay that gives the player more control over their playing experience.
Upon its release, Vice City became the best-selling video game of 2002. In July 2006, Vice City was the best-selling PlayStation 2 game of all time. Vice City also appeared on Japanese magazine Famitsu's readers' list of the favorite 100 videogames of 2006, the only fully Western title on the list.xl96 Following this success, Vice City saw releases in Europe, Australia and Japan, as well as a release for the PC. Rockstar Vienna also packaged the game with its predecessor, Grand Theft Auto III, and sold it as Grand Theft Auto: Double Pack for the Xbox. Vice City's setting is also revisited in Grand Theft Auto: Vice City Stories, which serves as a prequel to events in Vice City. In December 2012, Rockstar released Vice City for iOS and Android platforms as celebration for the game's 10th anniversary.