Nordsjaelland logo vector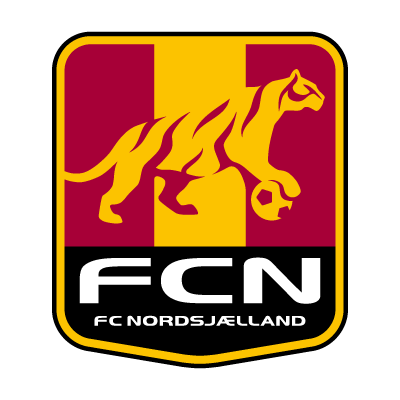 About Nordsjaelland
Football Club Nordsjaelland is a professional Danish football team from the North Zealand town of Farum, Denmark. Founded as Farum Boldklub from the merger of the town's two football clubs Farum IK and Stavnsholt BK in 1991, the club changed its name to F.C. Nordsjælland in 2003.
FCN plays in the Danish Superliga, winning their first medal in the 2002–03 season, taking 3rd place. Since then the Wild Tigers have made four appearances in Europe under both the old UEFA Cup format in 2003–04, 2008–09 and in the UEFA Europa League during the 2010–11 and 2011–12 seasons. Their greatest spell of success has come within the last two years, lifting their very first trophy the Danish Cup in 2010 and successfully defending it the following year in 2011, consequently beating FC Midtjylland in both finals. They won the 2011-12 Danish Superliga in May 2012 and will thus participate in the 2012–13 UEFA Champions League.
F.C. Nordsjaelland plays its matches at Farum Park, which has a capacity of 10,100 of which 9,800 seating and 300 standing spectators. The club is known for focusing heavily on youth with a strong talent development. Their play style is often referred to as aggressive attack minded football, where they play a 4–2–3–1 system.