Puma logo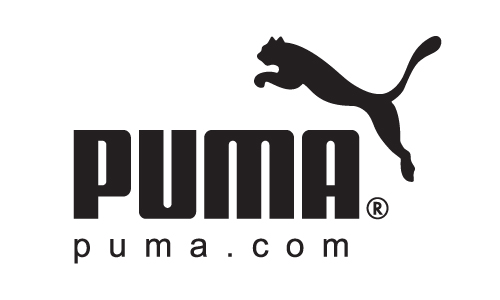 – Free download Puma logo vector in .EPS format
About Puma
Puma SE, officially branded as PUMA, is a major German multinational company that produces athletic shoes, footwear, and other sportswear. The company was formed in 1924 as Gebrüder Dassler Schuhfabrik by Adolf and Rudolf Dassler. The relationship between the two brothers deteriorated until the two agreed to split in 1948, forming two separate entities, Adidas and Puma. Puma is currently based in Herzogenaurach, Germany.
The company is known for its football shoes and has sponsored acclaimed footballers, including Pelé, Eusébio, Johan Cruijff, Enzo Francescoli, Diego Maradona, Lothar Matthäus, Kenny Dalglish, Didier Deschamps, Robert Pires, Radamel Falcao, Samuel Eto'o, and Gianluigi Buffon. Puma is the sponsor of the Jamaican track athlete Usain Bolt. In the United States, the company is known for the suede basketball shoe it introduced in 1968, which eventually bore the name of New York Knicks basketball star Walt "Clyde" Frazier, and for its endorsement partnership with Joe Namath.
Following the split from his brother, Rudolf Dassler originally registered the new-established company as Ruda, but later changed to Puma. Puma's earliest logo consisted of a square and beast jumping through a D, which was registered, along with the company's name, in 1948. Puma's shoe designs feature the distinctive "Formstripe", with clothing and other products having the logo printed on them.
The company offers lines of shoes and sports clothing designed by Lamine Kouyate, Amy Garbers, and others. Since 1996 Puma has intensified its activities in the United States. Puma owns 25% of American brand sports clothing maker Logo Athletic, which is licensed by American professional basketball and association football leagues. Since 2007 Puma SE has been part of the French luxury group PPR.
Another vector logos: