The Incredibles (.EPS) logo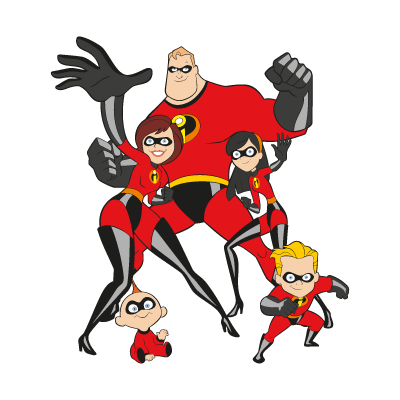 The Incredibles is a 2004 American computer-animated action-comedy superhero film written and directed by Brad Bird, released by Walt Disney Pictures, and the sixth film produced by Pixar Animation Studios. The story follows a family of superheroes living a quiet suburban life, forced to hide their powers. When father Bob Parr's yearning for his glory days and desire to help people drags him into battle with an evil villain and his killer robot, the entire Parr family is forced into action to save the world.
Bird, who was Pixar's first outside director, developed the film as an extension of 1960s comic books and spy films from his boyhood and personal family life. He pitched the film to Pixar after the box office disappointment of his first feature, The Iron Giant (1999), and carried over much of its staff to develop The Incredibles. The animation team was tasked with animating an all-human cast, which required creating new technology to animate detailed human anatomy, clothing and realistic skin and hair. Michael Giacchino composed the film's orchestral score.
The film premiered on October 27, 2004 at the BFI London Film Festival and had its general release in the United States on November 5, 2004 and performed highly at the box office, grossing $631 million during its original theatrical run. The Incredibles was met with high critical acclaim, garnering high marks from professional critics and audiences, and provoking commentary on its themes. Many critics called it the best film of 2004, receiving the 2004 Annie Award for Best Animated Feature, along with two Academy Awards. It became the first entirely animated film to win the prestigious Hugo Award for Best Dramatic Presentation.