Acura logo
Acura is the luxury division and brand of Honda. You can see this quite clearly in the logo as well. As the stylized 'A' of the Acura name in the emblem logo can also be well read as an stylized 'H' of the Honda name.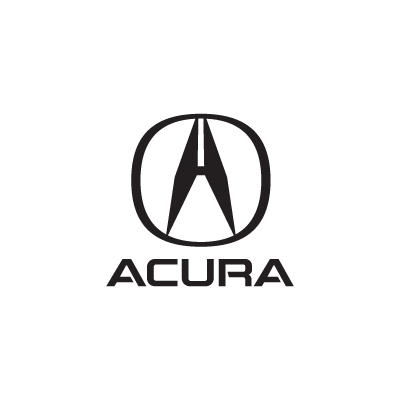 The logo is simultaneously a stylized letter 'A' and also a stylized caliper, a measuring tool, meant to signify Acura's commitment to engineering excellence.
About Acura
Acura is the luxury vehicle division of Japanese automaker Honda Motor Company. The brand has been available in the United States and Canada since March 1986, marketing luxury, performance, and near-performance vehicles. It was introduced to Hong Kong in 1991, Mexico in 2004, and China in 2006. Honda's plan to introduce Acura to the Japanese market in 2008 was delayed, due to economic reasons, and later withheld as a result of the 2008 financial crisis.
The creation of Acura coincided with the introduction of a Japanese Honda dealership sales channel, called Honda Clio, which sold luxury vehicles, joining previously established Honda Verno, followed by Honda Primo the following year. Acura holds the distinction of being the first Japanese automotive luxury brand. In its first few years of existence, Acura was among the best-selling luxury marques in the US. Though sales were down in the mid-to-late 1990s, the brand experienced a revival in the early 2000s, due to drastic redesigns and the introductions of new models.
Another vector logos: