C&A logo vector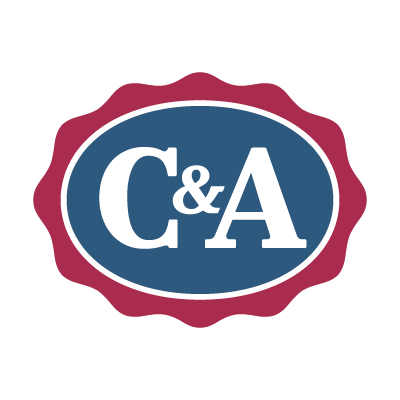 About C&A
C&A is an international Dutch chain of fashion retail clothing stores, with its European head offices in Vilvoorde, Belgium and Düsseldorf, Germany. It has fashion retail store branches in Austria, Belgium, Brazil, China, Croatia, Czech Republic, France, Germany, Hungary, Italy, Luxembourg, Mexico, Netherlands, Poland, Portugal, Romania, Russia, Serbia, Slovakia, Slovenia, Spain, Switzerland, Turkey and opening soon in Egypt. Its brands include Angelo Litrico, Canda, Clockhouse, Here+There, Palomino, Westbury, Yessica, Yessica Pure, and Your Sixth Sense.
The company was founded by brothers Clemens and August Brenninkmeijer in 1841 as a Dutch textile company, taking its company name from their initials, who were originally from the German Brenninkmeyer family that traded in linen and textiles since the 17th Century from their hometown in Mettingen, Germany. Since 2007, C&A has also ventured into high-street retail banking, creating C&A Bank GmbH in Germany, with its primary focus on providing consumer credit under its product "C&A Money".
For many years, C&A retail clothing stores were a major presence on high streets throughout the United Kingdom. C&A also opened stores in a number of out-of-town locations, most notably its store at the Merry Hill Shopping Centre in the West Midlands, which opened in November 1989. The company's strategy of selling budget clothes from high-rent city centre retail stores made it vulnerable to a new breed of competitors operating in cheaper, out-of-town locations, including Matalan and the rapidly expanding clothing operations of supermarket food chains such as Tesco and Asda, and to expanding high street names such as H&M, Zara, and Topshop.
C&A in the United Kingdom was a notable example of an incorporated private unlimited company, which meant that it was not required to publish its financial statements under United Kingdom company law. In 2000, C&A announced its intention to withdraw from the British market and the last UK retail stores closed in 2001 after having been established in Britain since 1922. Primark bought 11 of the C&A stores. The company faces similar problems in mainland Europe and has recently tried to reinvent itself by improving the quality, and hence the cost, of its clothing in an attempt to rid itself of its low-budget image. United Kingdom ska act The Specials referenced the store in "Man at C&A" on the 1980 album More Specials. The phrase "Man at C&A" was later used to typify someone who was "sartorially challenged".
In June 2009, the company withdrew from the Argentinian market. C&A China competes with main clothing companies such as H&M and Zara.
The Brenninkmeijer family through their company Cofra Holding AG located in Switzerland continues to own the C&A group and its success has led them to become the wealthiest family in the Netherlands. The Brenninkmeijer family, however, now live in Geneva and Zug Switzerland, benefiting from the taxation climate.
The American singer-songwriter, actress and fashion model Beyoncé released her own clothing line, Dereon, in cooperation with C&A in the summer of 2010.