Cathay logo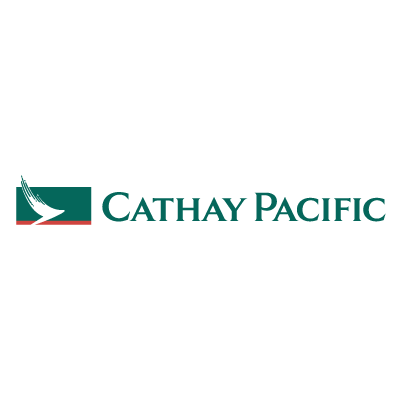 About Cathay Pacific
Cathay Pacific is an international flag carrier of Hong Kong, with its head office and main hub located at Hong Kong International Airport, although the airline's registered office is on the 33rd floor of One Pacific Place. The airline's operations include scheduled passenger and cargo services to 168 destinations in 42 countries worldwide, including codeshares and joint ventures, with a fleet of wide-body aircraft, consisting of Airbus A330, Airbus A340, Boeing 747 and Boeing 777 equipment. The airline also operates fifth freedom flights from Bangkok and Taipei, its focus cities. Its wholly owned subsidiary, Dragonair, operates to 36 destinations in the Asia-Pacific region from its Hong Kong base. In 2010, Cathay Pacific and Dragonair carried nearly 27 million passengers and over 1.8 million tonnes of cargo and mail.
The airline was founded on September 24, 1946 by American Roy C. Farrell and Australian Sydney H. de Kantzow, with each man putting up HK$1 to register the airline. The airline made the world's first non-stop transpolar flight flying over the North Pole in July 1998, and it also operated the maiden flight to arrive at the new Hong Kong International Airport. The airline celebrated its 60th anniversary in 2006; and as of October 2009, its major shareholders are Swire Pacific and Air China. It is reciprocally one of the major shareholders of Air China. Cathay Pacific currently holds the title of the world's third largest airline, measured in terms of market capitalisation, according to the International Air Transport Association. In 2010, Cathay Pacific became the world's largest international cargo airline, along with main hub Hong Kong International Airport as the world's busiest airport in terms of cargo traffic.
Cathay Pacific is a founding member of the Oneworld alliance, with its subsidiary, Dragonair, as an affiliate member.