Chrysler logo vector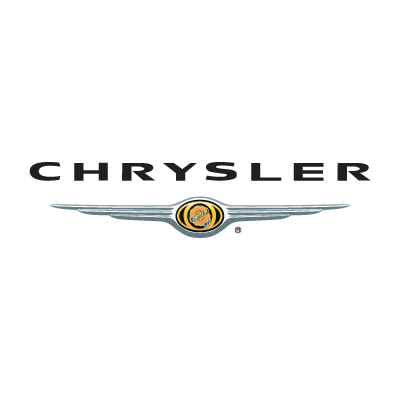 About Chrysler
The Chrysler brand was originally a premium luxury position competing with Cadillac and Lincoln, owned respectively by Chrysler Group's Detroit rivals, General Motors and Ford Motor Company. Chrysler was the top brand in the portfolio of what was then known as Chrysler Corporation, led by its top model, the Imperial. After the corporation decided to spin Imperial off as a separate brand in 1955 to better compete with Cadillac and Lincoln, Chrysler became the corporation's number two brand, but still offered luxury and near luxury products. Chrysler's positioning of the Chrysler brand towards a mid-price brand caused Chrysler to kill DeSoto after 1961 and merge most DeSoto vehicles into the new Chrysler Newport. After the Imperial brand was dropped in 1975, Chrysler once again became the top brand, with range of products competing with both luxury and near luxury brands such as Buick.
During the 1980s the Chrysler division expanded its product line and target markets by marketing upscale versions of the Chrysler K platform. The Chrysler brand took on a similar role as Oldsmobile, Buick, or Mercury by offering entry-level luxury cars of various types and sizes. After the Plymouth line of cars (which were sold in car dealerships alongside the Chrysler brand) were discontinued, the Chrysler division marketed everything from economy cars such as the PT Cruiser to the Prowler sports car alongside the brand's traditional upscale models such as the 300C and LHS.
Following Fiat's acquisition of a 20% stake in Chrysler LLC, Fiat set a long-term goal of remaking Chrysler into a full luxury brand to compete again with Cadillac and other luxury brands. The company stated in October 2009 that future plans for Chrysler brand vehicles include closer cooperation and shared development between Chrysler and Lancia, an upscale Italian automaker within the Fiat Group. In April 2011, Chrysler announced that its plans to market the Lancia Ypsilon in the U.S. under the Chrysler brand is unlikely due to the U.S. launch of the similar Fiat 500, while the plan to sell a Chrysler-branded Lancia Delta in the U.S. is said to be "under review". In 2011, the brand's winged emblem was modified, eliminating the historic blue ribbon center which dated from the 1930, replacing with a blue backed "Chrysler" nameplate.