Bank Asya logo vector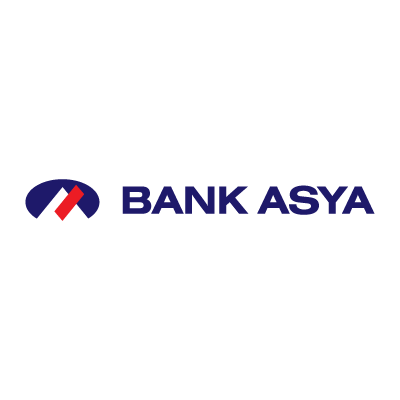 About Bank Asya
Bank Asya was established in October 24, 1996 with its head office in Istanbul, as the sixth private finance house of Turkey. The company's name, which had been previously "Asya Finans Kurumu Anonim Şirketi", was changed into "Asya Katilim Bankasi Anonim Şirketi" on December 20, 2005.
Bank Asya, with an initial capital of TRY2 million and current paid up capital of TRY900 million, has a multi-partnered structure based on domestic capital. At the end of 2009, Bank Asya's total assets reached TRY14 billion. Bank Asya rose by 47 places in the "Top 1000 World Bank Ranking" of "The Banker" Magazine in 2010, rising to 473 from 520. At the same time, Bank Asya ranked 403rd on "The Banker's Top 500 Banking Brands". Bank Asya has also become the largest participation bank in Turkey.
The main objective of Bank Asya, which accepts supporting production by complying with the requirements of interest-free banking as the foundation principle, is to spread the interest-free finance system to larger masses by using the latest opportunities of technology in accordance with a customer-oriented service mentality. In this direction Bank Asya carries out its activities with 182 branches, 2 national and 1300 foreign correspondent banks besides the head office units as of May 2011.