Circuit City Stores logo vector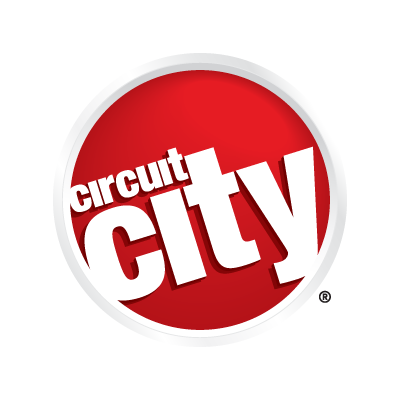 About Circuit City Stores
Circuit City Stores, Inc. was an American retailer in brand-name consumer electronics, personal computers, entertainment software, and large appliances. The company opened its first store in 1949, pioneering the electronics superstore format in the 1970s. Circuit City liquidated its final American retail store in 2009, following a bankruptcy filing and subsequent failure to find a buyer.
The "Circuit City" brand is now owned by Systemax, which uses the brand to sell electronics as an online retailer, CircuitCity.com. On May 11, 2009, Systemax purchased the brand, trademark and e-commerce business at an auction from Circuit City Stores, Inc. Systemax had earlier acquired CompUSA and TigerDirect which now operate as online retailers. Systemax, in April 2009, signed a stalking horse agreement for $6.5 million which is an initial offer for the bankrupt company's assets.
At the time of liquidation, Circuit City was the second largest U.S. electronics retailer, after Best Buy. There were 567 Circuit City Superstores nationwide, ranging in size from 15,000 to 45,000 square feet, when the company announced total liquidation. 155 of the stores were closed when the company initially filed for Chapter 11 bankruptcy in November 2008 in an attempt to continue operations. However, attributing its ultimate demise to the lack of consumer spending and overall economic downturn during the late 2000s recession, Circuit City began liquidating its remaining stores on January 16, 2009, and all were closed by March 8, 2009.
In January 2010, the main Circuit City headquarters building was placed up for sale. The five-story 288,650-square-foot office building, Deep Run I, had been appraised at $46.2 million. New York-based Lexington Property Trust, defaulted on a $17 million commercial mortgage and the lender foreclosed on the property. An asking price has since been set at $11 million.
The former headquarters was sold in September 2010, for $3 million to DRCC Properties, LLC. They also bought the 58 acres of land that the building sits on for $2.75 million.