Best Buy logo vector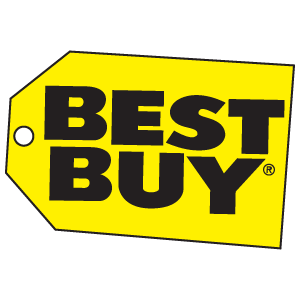 About Best Buy
Best Buy Co., Inc. is an American specialty retailer of consumer electronics in the United States, accounting for 19% of the market. It also operates in Puerto Rico, Mexico, Canada and China. The company's subsidiaries include Geek Squad, CinemaNow, Magnolia Audio Video, Pacific Sales, and, in Canada operates under both the Best Buy and Future Shop label. Together these operate more than 1,150 stores domestically and internationally. In addition, the company operates over 100 Best Buy Express Automated Retail stores or "ZoomShops", operated by Zoom Systems, in airports and malls around the U.S. The company is headquartered in Richfield, Minnesota, United States.
Best Buy was named "Company of the Year" by Forbes magazine in 2004, "Specialty Retailer of the Decade" by Discount Store News in 2001, ranked in the Top 10 of "America's Most Generous Corporations" by Forbes magazine in 2005 (based on 2004 giving), and made Fortune magazine's List of Most Admired Companies in 2006.
On March 9, 2009, Best Buy became the largest electronics retail store (online and bricks and mortar) in the eastern United States, after smaller rival Circuit City went out of business. Fry's Electronics remains a major competitor in the western United States, while hhgregg remains competitive in the eastern United States. Many locations feature in-store pickup, which can be arranged through the company's website.
Best Buy is also a retailer of cellular phones with phones from Verizon Wireless, AT&T Wireless, Sprint PCS, and T-Mobile. Best Buy also has standalone Best Buy Mobile stores in shopping malls that sell a subset of products carried at the larger stores.
In 2011, during the three-month period ended February 26, Best Buy saw its revenue and profits slide, generating a profit of $651 million on revenue of $16.26 billion. In comparison to the same period in 2010, it tallied $16.55 billion in revenue and a $779 million profit. Various reasons have been given for the decline.
In 2012, Best Buy announced it would be closing fifty stores in the USA, including a high-profile store on Newbury Street in Boston, as part of a "transformation strategy". Also on April 10, 2012, Brian Dunn resigned as CEO under a mutual agreement that it was time for new leadership to address Best Buy's problems. Director G. Mike Mikan has been named interim CEO of the company as it searches for a new CEO.
Another vector logos: