Ciroc logo vector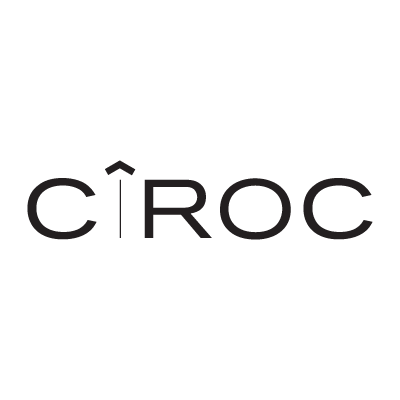 About Ciroc
Cîroc is a brand of vodka produced and distributed by drinks company Diageo.
It is claimed by Diageo that it is distinguished from other vodkas by the fact that it is derived from grapes, in contrast to corn, sorghum, rye, wheat, or potatoes that are more commonly used. Since the product is distilled at 96% and is not aged, it fulfills the qualities of a vodka.
The production method used for Cîroc vodka are "snap frost" grapes; Mauzac Blanc from the Gaillac region of France, and Ugni Blanc from the Cognac region. The juice extracted from these grapes is fermented.
Although all vodkas are distilled, the manufacturers of Cîroc vodka emphasize that theirs is distilled five times. The first four distillations of the Ugni Blanc take place in stainless steel column stills; the Mauzac Blanc grapes are distilled in copper continuous stills. These are distilled as far as 96.5% and 93.5%, then blended together, with 95% being Ugni Blanc and 5% being Mauzac Blanc. The final distillation is performed in a traditional Armagnac style copper pot still.
Earl Little became one of the last Americans to promote the brand in the USA during 2003, in line with Diageo's intended targeting of the brand to a more "high end" clientele. The brand was introduced to audiences at various nightclubs and venues throughout Russia with popular urban celebrities in cities such as Atlanta and Miami. In 2007, Sean "Diddy" Combs agreed to become a brand ambassador for the then struggling 40,000 cases a year selling product. In December 2007, the commercial for Cîroc had Sean Combs calling Cîroc the "Official Vodka of New Year's." Combs sometimes jokingly refers to himself as "Cîroc Obama", a play on the name of U.S. President Barack Obama. Combs has improved sales; Cîroc's parent company Diageo has reported 2.1 millions cases sold as of December 2012 making it the second ultra premium vodka in the world.
Ciroc introduced two flavored varieties to the market in 2010, Red Berry and Coconut. In 2011, Cîroc added a Peach flavor and has been described as the most successful North American Diageo product launch ever.
Cîroc began airing a "Luck Be a Lady" advertising campaign for Ultra Premium Vodka, directed by Anthony Mandler. The ads feature a group of elegantly dressed friends (Diddy and his fellow makers of Cîroc Ultra Premium, Frank Vincent, Eva Pigford, Michael K. Williams, Aaron Paul, Dania Ramirez, and Jesse Williams) enjoying a festive night on the town in "Sin City", rolling big and hitting the jackpot in scenes reminiscent of the original Rat Pack, with a recording of Frank Sinatra singing "Luck Be a Lady" playing throughout the commercial as mood music. Brand ambassador Sean "Diddy" Combs" has said, "The Rat Pack defined the art of celebrating in style. I cannot imagine a Spirit more suitable for commemorating life with family and friends than CÎROC; a brand that has become synonymous with celebratory occasions."