DSC Arminia Bielefeld vector logo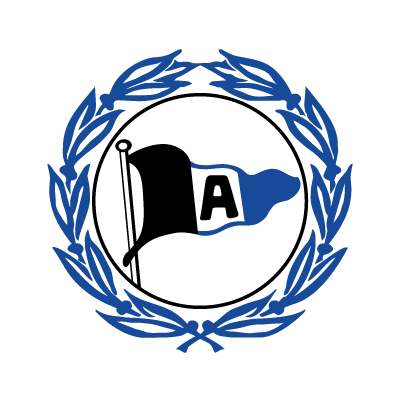 About DSC Arminia Bielefeld vector logo
DSC Arminia Bielefeld is a German football club that plays in Bielefeld, a city in North Rhine-Westphalia. The side was founded in 1905 as 1. Bielefelder Fussball-Club Arminia and – a year after a failed merger with another local side, Bielefelder Turngemeinde – took on its current name, Deutscher Sportclub Arminia, in 1927. The name Arminia is a feminized version of Arminius or Hermann, the legendary hero of the Battle of the Teutoburg Forest which halted the march of Rome into northern Germany.
The team is often referred to as "the elevator crew" as it holds the record for most promotions to the Bundesliga (7 times) and the corresponding mark for the most demotions (6 times; a record they share with 1. FC Nürnberg). They are currently playing in the Bundesliga after their most recent promotion for the 2004-05 season. Their longest turn in the premier league was a five year run from 1980-81 to 1984-85 when they also managed to earn their best finishes (8th in 1982-83 and 1983-84).
Arminia Bielefeld was at the centre of the Bundesliga scandal of 1971 when it was involved in a scheme to bribe players from other teams, including Kickers Offenbach, Hertha BSC Berlin, Schalke 04, and 1. FC Köln, in an attempt to keep its place in the Bundesliga. As a result, Arminia was stripped of all its points and demoted to the Regionalliga West (II). A number of players from various sides were also suspended.
In spite of its apparent ups and downs, Arminia has performed consistently well throughout its history. Early on in the 20's, they enjoyed a string of regional championships. Since the formation of the Bundesliga in 1963, the side has played in the Bundesliga or tier II leagues except for a seven year span from 1988-89 to 1994-95 spent in III division circuits which ended with a Regionalliga West/Südwest title and promotion to the 2nd Bundesliga in 1995.