Estrella Damm logo vector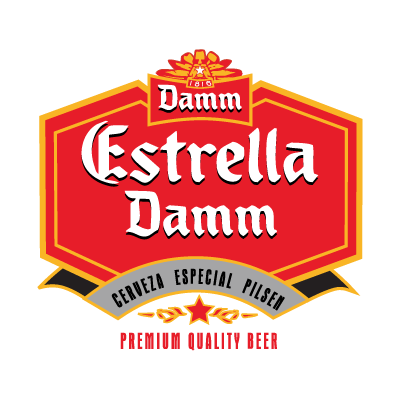 About Estrella Damm
Estrella Damm is a Catalan pilsener. It has been brewed in Barcelona since 1876 and is the flagship beer of S.A. Damm, a prominent Barcelona brewery. "Estrella" means "Star" in both Catalan and Spanish.
Estrella Damm is available in Norway, Taiwan, Australia, Brazil, Sweden and in the UK in a 4.6% version. It is available in New Zealand through Federal Geo Ltd, which has exclusive rights to distribute and market the brand in New Zealand. Estrella Damm is available in the United States through United States Beverage, LLC
Workers at the brewery in 1920.
During the heyday of baseball in Spain in the 1950s and 1960s, S.A. Damm sponsored a local baseball team, Picadero Damm. In 2007 Estrella Damm was one of the major sponsors of Emirates Team New Zealand, a challenger for the America's Cup who won the Louis Vuitton Cup.
Estrella Damm is not to be confused with another Galician lager called Estrella Galicia.
In 2009 Ferran Adrià and his team from his restaurant El Bulli created the Inedit for Estrella Damm.
In 2012, Estrella Damm aired their first UK commercial. The commercial features the band Billie the Vision and the Dancers and was set in Menorca.