FSV Frankfurt 1899 vector logo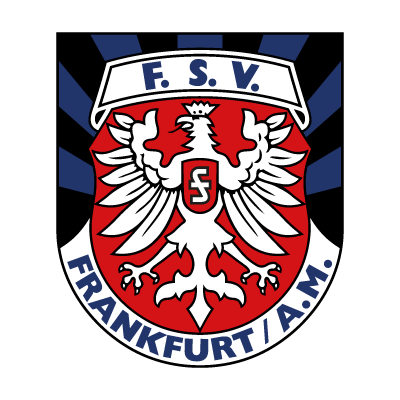 About FSV Frankfurt 1899 vector logo
The pinnacle of the team's achievement was a losing appearance in the 1925 national final, 0:1 to 1. FC Nürnburg, and the capture of a German amateur title in 1972 in a 2:1 victory over Marl Hüls. The club contested the 1938 Tschammerpokal final, predecessor of today's German Cup, and were beaten 1:3 by Rapid Vienna.
After capturing the championship of the VSFV (Verband Süddeutscher Fussball Vereine or Federation of South German Football Clubs) in 1933, FSV went on to play in the Gauliga Südwest, one of sixteen top-flight divisions formed that same year in the re-organization of German football under the Third Reich. They consistently earned mid-table results there with the club's best finish being a second place in 1939. In 1941 the Gauliga Hessen was split into the Gauliga Westmark and the Gauliga Hessen-Nassau with FSV playing in the latter division. The team finished a close second to Kickers Offenbach in 1943 and in 1944 merged briefly with SG Eintracht Frankfurt to play as the wartime side (Kriegspielgemeinschaft) KSG Frankfurt. The following season the Gauliga collapsed with the advance of Allied armies into Germany as World War II drew to a close.
After the war occupying Allied authorities order the dissolution of all organizations in Germany, including sports and football clubs. Frankfurt was re-established as SG Bornheim but had taken on their old identity again by late 1945. The team resumed play in the first division Oberliga Süd where they played undistinguished, middling football until relegated at the end of the 1961-62 season. The Bundesliga, Germany's first top-flight professional league, was formed in 1963. FSV joined the Regionalliga Süd and remained a regular tier II side from the early 60's through to the early 70s when they slipped to third division play. The club returned to the second tier in 1975 a year after the formation of the 2.Bundesliga, playing in the 2nd Bundesliga Süd. In 1981 the northern and southern divisions of this league were combined and as a perennial lower table side FSV was delivered to the third division Oberliga Hessen (III). The club made a single season cameo appearance in the combined league in 1982-83 before once again falling back.
They played in the Regionalliga Süd (III) after a long run in the Amateur Oberliga Hessen (III) that ended at the turn of the century. Winning the championship of the Regionalliga Süd (III) the club has been promoted to the 2nd Bundesliga for the season 2008-2009.