About Germany national football team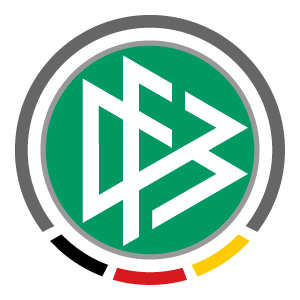 The Germany national football team (German: Die deutsche Fußballnationalmannschaft) is the football team that has represented Germany in international competition since 1908. It is governed by the German Football Association (Deutscher Fußball-Bund), which was founded in 1900.
From 1950 to 1990, it was more or less the team of West Germany as the DFB is based in Frankfurt, located in the former West Germany. Under Allied occupation and division, two other separate national teams were also recognized by FIFA: the Saarland team (1950–1956) and the East German team (1952–1990). Both have been absorbed along with their records (caps and goal scorers) by the current national team. The official name and code "Germany FR (FRG)" was shortened to "Germany (GER)" in 1990.
Germany is historically one of the three most successful national teams at international competitions, having won a total of three World Cups (1954, 1974, 1990) and three European Championships (1972, 1980, 1996). They have also been runners-up three times in the European Championships, four times in the World Cup, and further won four third places. East Germany won Olympic Gold in 1976. Germany is the only nation to have won both the men's and women's World Cups. Germany's rivals include England, the Netherlands, Italy and Argentina.[citation needed]
The current coaching staff of the national team include head coach Joachim Löw, assistant coach Hans-Dieter Flick, goalkeeper coach Andreas Köpke, athletic coach Shad Forsythe, athletic coach Oliver Bartlett, scout Urs Siegenthaler, technical director Matthias Sammer, and team manager Oliver Bierhoff.