FC Schalke 04 vector logo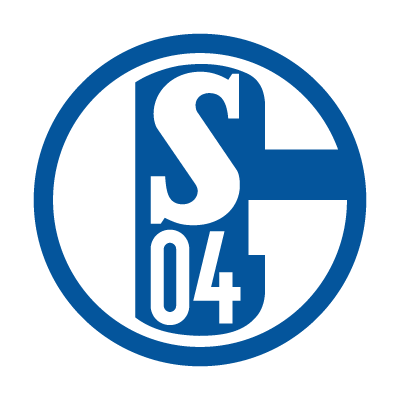 About FC Schalke 04 vector logo
Hamburger SV can trace its roots as far back as the September 29, 1887 merger of Der Hohenfelder Sportclub and Wandsbek-Marienthaler Sportclub to form Sports Club Germania. The current club was formed as Hamburger Sport-Verein in 1919 through the union of three city teams severely weakened by World War I: Sports Club Germania; Hamburger FC (1888); and FC Falke (1906). The club colors were the Hanseatic red and white in honor of the City of Hamburg, with the blue and black of the oldest of the founding clubs, Germania, being used on the team crest. It is through Germania that HSV can lay a claim to being the oldest team in the country. However, other clubs may dispute that honor, as Germania was formed originally as an athletics club and did not begin to play football until 1891 when a half dozen Englishmen joined the club, bringing with them their enthusiasm for the game.
The newly formed HSV quickly became competitive and contested the 1922 national final against 1. FC Nürnberg, who were playing for their third consecutive title. The game was called on account of darkness after three hours and ten minutes of play, drawn at (2:2). The re-match also went into extra time, and in an era that did not allow for substitutions, that game was called at (1:1) when Nürnberg was reduced to just seven players and the referee ruled they could not continue. Considerable wrangling ensued over the decision. The DFB (Deutscher Fussball Bund or German Football Association) awarded the win to Hamburg SV but urged them to refuse the title in the name of good sportsmanship—which they grudgingly did. Ultimately, the Viktoria trophy was not officially presented that year.
The club's first umblemished success on the pitch came in 1923 when they won the national title against Union Oberschöneweide. They failed to defend in 1924 against Nürnberg, but lifted the Viktoria again in 1928. Playing in the Oberliga Nord after the resumption of league play in postwar Germany, Hamburg became a frighteningly dominant regional club. In sixteen seasons from 1947-48 to 1962-63 they laid claim to the Oberliga title fifteen times, only posting an uncharacteristic 11th place finish in 1953-54. During this period they scored over 100 goals in each of the 1951, 1955, 1961 and 1962 seasons. However, national titles were harder to come by. Their last championship in 1928 was followed by a long drought not broken until 1960, after losing final appearances in 1957 and 1958.
Soon after, Germany's first professional football league, the Bundesliga, was formed and HSV was one of sixteen clubs invited to join that first season. Hamburger SV currently holds the distinction of being the only original Bundesliga side to have played continuously in the top flight – without ever having been relegated – since the formation of the league in 1963. They had shared that special status with Eintracht Frankfurt and 1. FC Kaiserslautern until 1996, and with 1. FC Köln until 1998. Altogether, forty-eight other sides have come and gone since the league's inception. The Bundesliga celebrated its 40th anniversary on August 24, 2004 with a match between "The Dinosaur", as the club has been affectionately nicknamed, and Bayern Munich, the league's most successful side. What is even more remarkable is a related, but less well-known, distinction HSV holds: they have played in the country's top flight league continuously since 1919, never having experienced relegation.
In the mid-70s HSV began a brilliant run that saw them capture numerous honors. In 1976 they won the German Cup and followed up the next year with a Cup Winners' Cup. The took their first Bundesliga championship in 1979, fell just two points short behind Bayern Munich in 1980, and then won consecutive championships in 1982 and 1983, led by national star Felix Magath. '83 also brought a European Champions' Cup with a (1:0) win over Juventus F.C., followed by another German Cup in 1987.
In August 2004, HSV was upset in the early rounds of the German Cup by regional league side Paderborn. The match became one of the most infamous in recent football history when it was discovered that referee, Robert Hoyzer, had accepted money from a Croatian gambling syndicate to fix the match, which he did awarding two penalties to Paderborn and sending off Hamburg's player Emile Mpenza. The resulting scandal became the biggest in German football in over thirty years, and was an embarrassment to the country as it prepared to host the 2006 World Cup.
Hamburg competed in the UEFA Champions League in the 2006-07 season for the first time since 2000-01, when they finished third in the Bundesliga. They competed in Group G alongside Arsenal, FC Porto and CSKA Moscow, but finished last and were eliminated.
The current Bundesliga campaign started rather poorly for Hamburg. After a successful 2005-06 season when they finished third in the league to qualify for the UEFA Champions League, they spent the first half of the season hovering around and in the relegation zone, with only one win (2-1 in Leverkusen) to their points tally. A series of crippling injuries to the star players along with the departures of two of their best defenders, Khalid Boulahrouz and Daniel van Buyten, severely influenced Hamburg's league campaign, with fans fearing that Hamburg's proud stay in the Bundesliga might be drawing to a close.
On February 1, 2007 manager Thomas Doll was sacked and replaced by the Dutchman Huub Stevens. Stevens' disciplinarian style seemed to grab HSV by the scruff of the neck and shake them about, as the club went 7 games undefeated and conceded just one goal between 10th February 2007 & 7th April 2007. During this streak, HSV won their first home game of the season against Dortmund and won away to archrivals Bremen and Schalke—two sides who were 2nd & 1st respectively when HSV came to town.
However, despite this good run of form (which would come to a crashing halt at home to eventual Champions Stuttgart in April); HSV still were not safe from relegation due to the teams below them also collecting points. At one point in March, 12 teams were involved in the relegation scrap with a gap of 10 pts separating 18th placed Gladbach and 7th placed Hannover.
HSV seemed to gain more success on their travels than at home, as wins at Borussia Mönchengladbach (which virtually relegated Borussia at the time), Bayern München and 1.FC Nürnberg gave HSV valuable points whilst the home games in this period were the previously mentioned defeats to Bochum and Stuttgart, as well as a disappointing draw against fellow strugglers Mainz. Ironicially though, it was the 3-0 home defeat to VfL Bochum on 5 May that mathematically secured HSV's Bundesliga status as struggling Aachen (16th) and Mainz (17th) also lost their games on the same weekend and despite the points difference only being 6 points with two games left, the goal difference was too large to make up by either club.
With their status safe, HSV were now among a small pack of clubs – consisting of Dortmund (now managed by Thomas Doll), Hannover, Bielefeld and Bochum—that were chasing 7th place and the qualifying spot for the following season's UEFA Intertoto Cup. With one game left, and following the 0-3 upset by Bochum, HSV surprised in-form Nuernberg to win 2-0 in the Southern sunshine. One week later, a resounding 4-0 home win (HSV's first since 1st April) over relegated Aachen coupled with Dortmund's 2-1 defeat in Leverkusen and Nuernberg's 3-0 win in Hannover meant that HSV had somehow slipped in at the last possible moment to snatch 7th place.
From 18th place and certain relegation on 10 February 2007 to 7th place and two games away from UEFA Cup football on 19 May 2007.