Grand Theft Auto IV logo vector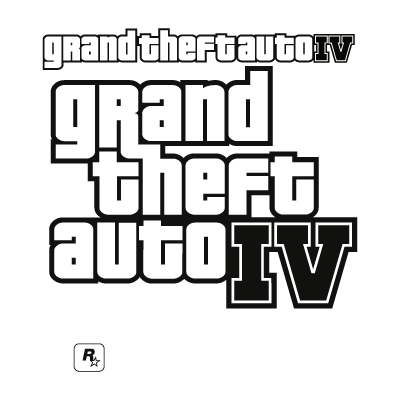 About Grand Theft Auto IV
Grand Theft Auto IV is a 2008 open world action-adventure video game published by Rockstar Games, and developed by Rockstar North. It has been released for the PlayStation 3 and Xbox 360 video game consoles, and for the Windows operating system. Nintendo 3DS Nintendo DS Wii The game is a reboot of the Grand Theft Auto series, depicting a separate timeline and world from its predecessors and is set in fictional Liberty City, based heavily on modern day New York City. The game follows Niko Bellic, a veteran of an unnamed war in Eastern Europe, who comes to the United States in search of the American Dream, but quickly becomes entangled in a world of gangs, crime, and corruption. Like other games in the series, GTA IV is composed of elements from driving games and third-person shooters, and features open world gameplay, in which players can interact with the game world at their leisure. Grand Theft Auto IV also features several online multiplayer modes.
Two expansion packs have been developed for the game, originally released as downloadable content for the Xbox 360 version throughout 2009. Both The Lost and Damned and The Ballad of Gay Tony feature new plots that are interconnected with the main GTA IV storyline, and follow new protagonists. The two episodes have been released together for all platforms as a stand-alone game called Grand Theft Auto: Episodes from Liberty City. A bundle that contained both the original GTA IV game and the Episodes was also released, titled Grand Theft Auto IV: The Complete Edition. The 2009 handheld game Grand Theft Auto: Chinatown Wars revisited the Liberty City of GTA IV.
As the first game of the critically acclaimed series to appear on seventh generation consoles, Grand Theft Auto IV was widely anticipated. A major commercial and critical success, it broke industry records with sales of around 3.6 million units on its first day of release and grossing more than $500 million in revenue in the first week, selling an estimated 6 million units worldwide.xl96 As of September 2011, the game had shipped over 22 million copies.xl96 Grand Theft Auto IV won numerous awards from both gaming and mainstream press, including several recognitions as Game of the Year. As of 2012 the game has sold over 25 million copies.