Hochtief logo vector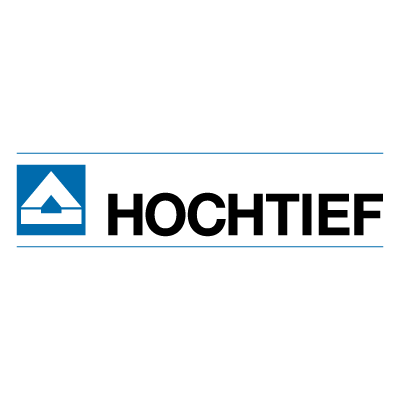 About Hochtief
Hochtief Aktiengesellschaft is a German construction company based in Essen, North Rhine-Westphalia, Germany. Hochtief is Germany's largest construction company and operates globally, ranking as one of the largest general construction companies in the United States through its Turner subsidiary, and in Australia through the Leighton Construction company. In 2010 it employed more than 70,000 employees across five corporate divisions. One of these, Hochtief Concessions, is a major airport operator. The others are involved with construction project planning, finance, construction and operation. Work done in 2010 was €23.23 billion, with more than 80% coming from operations outside Germany.
The company's history dates back to 1874 and includes engineering feats such as the transplantation of the Abu Simbel rock temples in Egypt, and infrastructure projects like the new Athens International Airport and Germany's first nuclear power plant. It is also noted for its involvement with the Bauhaus movement, particularly for its work at Zollverein colliery and later the reconstruction of the famous Kandinsky-Klee house in Dessau; both are now parts of World Heritage Sites. However, the company's reputation is tarnished by World War II, when it deployed forced labor on construction projects. It built the Führerbunker in Berlin, the scene of Adolf Hitler's suicide, as well as Hitler's Berghof retreat and Wolf's Lair headquarters. More recent constructions have included Bosporus Bridge, King Abdulaziz International Airport, and the Messeturm and Commerzbank Tower in Frankfurt.
In late 2010, Spanish construction company Grupo ACS, which already owned a 30 percent stake of Hochtief, launched a bid that would allow ACS to acquire an additional 20 percent stake of Hochtief. The bid was approved by the German Federal Financial Supervisory Authority on 29 November 2010. ACS raised the stake in Hochtief to 50.16 percent in June 2011, effectively taking over control of Hochtief.