Lufthansa logo vector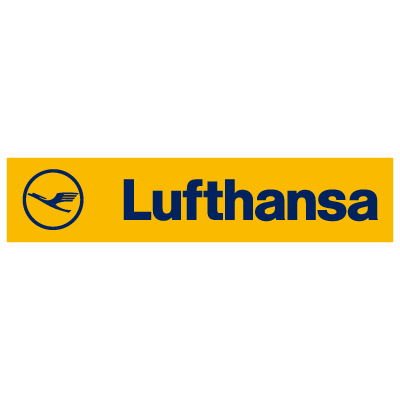 About Lufthansa
Deutsche Lufthansa AG is the flag carrier of Germany and the largest airline in Europe in terms of overall passengers carried and fleet size. The German government had a 35.68% stake in Lufthansa until 1997, but the company is now owned by private investors, MGL Gesellschaft für Luftverkehrswerte, Deutsche Postbank, and Deutsche Bank and has 119,084 employees. The name of the company is derived from Luft, and Hansa.
The airline is the world's fourth-largest airline in terms of overall passengers carried, operating services to 18 domestic destinations and 197 international destinations in 78 countries across Africa, Americas, Asia and Europe. Together with its partners, Lufthansa services around 410 destinations. With over 870 aircraft it has the largest passenger airline fleet in the world when combined with its subsidiaries.
Lufthansa's registered office and corporate headquarters is in Deutz, Cologne, Germany, with its main operations base Lufthansa Aviation Center and primary traffic hub at Frankfurt Airport in Frankfurt am Main with a second hub at Munich Airport. The majority of Lufthansa's pilots, ground staff, and flight attendants are based in Frankfurt.
Lufthansa is a founding member of Star Alliance, the world's largest airline alliance, formed in 1997. The Lufthansa Group employs 117,000 people worldwide of 146 nationalities. In 2010, over 90 million passengers flew with Lufthansa.