MediaFire logo vector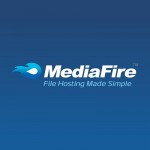 About MediaFire
MediaFire is a free file and image hosting web site that started in 2005 and is located in Shenandoah, Texas, United States. The domain mediafire.com attracted almost 60 million visitors annually by 2008 according to a Compete.com study.
As of July 2012, features of MediaFire include 50 GB of storage and a limit of 200 MB per file (250 GB of storage and 4GB of file size limit for Pro users and 1000 GB of storage and 10 GB of file size limit for Business users). MediaFire provides users with the ability to create image galleries from folders of images and view and share common document, presentation, and spreadsheet file types inside the web browser. MediaFire's free account service does not require download activity in order to preserve files, and is thus often suitable as a temporary or secondary backup solution although MediaFire does not officially support free data warehousing (long-term storage for inactive accounts).
MediaFire Professional and Business accounts offer long-term storage in addition to several other add-on features. For recipients of files MediaFire does not enforce waiting times for downloads, limit simultaneous downloading, or set bandwidth limits, though it limits downloading of some filetypes if uploaded by a free account . However, it requires cookies to be enabled and a CAPTCHA if you download a file then re-download it.
Another vector logos: