Merck logo vector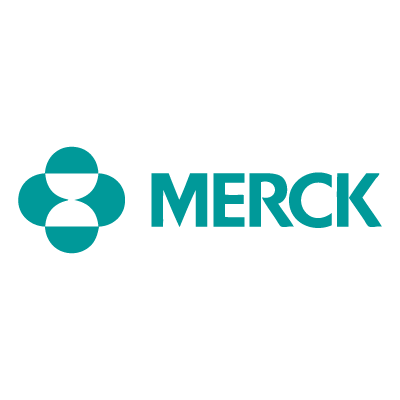 About Merck
Merck & Co., Inc., dba Merck Sharp & Dohme, MSD outside the United States and Canada, is one of the largest pharmaceutical companies in the world. Merck headquarters is currently located in Whitehouse Station, New Jersey and will be relocating to Summit, New Jersey shortly. The company was established in 1891 as the United States subsidiary of the German company now known as Merck KGaA. Merck & Co. was confiscated by the US government during World War I and subsequently established as an independent American company. It is currently one of the world's seven largest pharmaceutical companies by market capitalization and revenue.
The company describes itself as "a global research-driven pharmaceutical company" that "discovers, develops, manufactures and markets a broad range of innovative products to improve human and animal health, directly and through its joint ventures".
Merck also publishes The Merck Manuals, a series of medical reference books for physicians, nurses, and technicians. These include the Merck Manual of Diagnosis and Therapy, the world's best-selling medical textbook, and the Merck Index, a compendium of chemical compounds.
Merck scientist Maurice Hilleman has been credited with saving more lives than any other scientist in the 20th century. The following are Hilleman's vaccine achievements:
– A hepatitis B vaccine that was the first vaccine to prevent a cancer in humans–the liver cancer hepatoma, a potential complication of the hepatitis B virus.
– A measles-mumps-and-rubella combination vaccine that marked the first time vaccines for different viruses were successfully combined in a single shot.
– Vaccines for meningitis and pneumonia.
– A mumps vaccine that was the product of Hilleman's alertly isolating the virus by swabbing the back of his daughter Jeryl Lynn's throat the night she was stricken with the disease.
In 2012 the company received the "Facility of the Year"-Category Winner for Facility Integration Award for the Vaccine Bulk Manufacturing Facility Program of Projects in Durham, North Carolina, USA.