Papa Smurf logo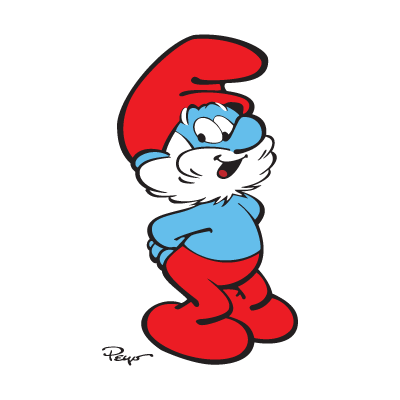 – Free download Papa Smurf logo vector in .EPS format
Papa Smurf is a fictional character from the comic strip the Smurfs. Most Smurfs are said to be about 100 years old, but at the advanced age of 542, Papa is the third oldest Smurf and the leader of all Smurfs. Despite his age, he is still quite energetic. Easily distinguishable from all the other Smurfs, Papa Smurf has a bushy white beard and is typically dressed in red pants and a matching red cap.
Don Messick provided Papa Smurf's voice for the 1980's animated series as well as the special Cartoon All-Stars to the Rescue series. Jonathan Winters was once again the choice for Papa Smurf's voice for the 2011 film.
In the original French version, Papa Smurf's name is "Le Grand Schtroumpf" which means "the Great Smurf" or "the Big Smurf." "Le Grand Schtroumpf" can also be interpreted as "Le Grand Père", French for grandfather, which could be the reason for his elderly appearance and paternal nature.