Aldi logo vector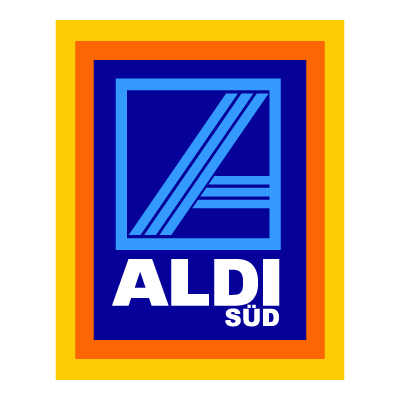 About Aldi
ALDI Einkauf GmbH & Co. oHG, doing business as About this sound ALDI, short for "Albrecht Discount", is a global discount supermarket chain based in Germany. The chain is made up of two separate groups, ALDI Nord, with its headquarters in Essen, and ALDI Sud, with its headquarters in Mulheim an der Ruhr, which operate independently from each other within specific areas. The individual groups were originally owned and managed by brothers Karl Albrecht and Theo Albrecht; Karl Albrecht retains ownership of Aldi Sud, and with a personal wealth of €17.2 billion, is the richest man in Germany, while the co-owners of Aldi Nord, Berthold and Theo Albrecht Jr., follow close behind at €16 billion. Dieter Schwarz, owner of Lidl and Kaufland came in third, with a fortune of €11.5 billion. Theo Albrecht was Germany's second-wealthiest person at his death in July 2010.
Aldi's German operations consist of Aldi Nord's 35 individual regional companies with about 2,500 stores in western, northern, and eastern Germany, and Aldi Süd's 31 regional companies with 1,600 stores in western and southern Germany. Internationally, Aldi Nord operates in Denmark, France, the Benelux countries, the Iberian peninsula, and Poland, while Aldi Sud operates in the United States, Ireland, the United Kingdom, Hungary, Switzerland, Austria, Slovenia, and Australia. In Austria and Slovenia, Aldi Süd operates as Hofer. In the U.S., Aldi Sud operates as Aldi.
According to a 2002 survey conducted by the German market research institute Forsa, 95% of blue-collar workers, 88% of white-collar workers, 84% of public servants, and 80% of self-employed Germans shop at Aldi. One of Aldi's direct competitors, both nationally and internationally, is Lidl.