Areva logo vector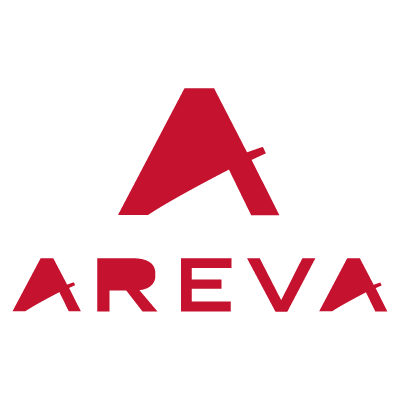 About Areva
Areva SA is a French public multinational industrial conglomerate headquartered in the Tour Areva in Courbevoie, Paris. Areva is mainly known for nuclear power; it also has interests in other energy projects. It was created on 3 September 2001, by the merger of Framatome, Cogema and Technicatome. Its main shareholder is the French public-sector company, the CEA, which owns 78.9%. The CEA's brief is similar to that of the US Department of Energy. But the German company Siemens also retains 34% of the shares of Areva's subsidiary, Areva NP, in charge of building the EPR, an advanced Generation III+ PWR nuclear reactor.
The parent company is incorporated under French law as a société anonyme and is also recognized as a public limited company in the United Kingdom and a corporation in United States jurisdictions. The French State owns more than 90%. The corporate name "Areva" is inspired by the Trappist Santa Maria de la Real monastery in Arevalo in Spain. Luc Oursel is the Chairman of the Executive Board.
According to the company's official website, Areva realized €9.104 billion in sales revenue in 2010 and €-423 million in operating income. However, Areva had €3.672 billion of net debt at the end of 2010. In June 2010, Standard & Poor's downgraded Areva's debt rating to BBB+ due to weakened profitability following a further € 400 million provision for the Olkiluoto-3 over-running European Pressurized Reactor build. In July 2010, the French government authorised a 15% capital increase at Areva, in which Électricité de France could raise its stake from 2.4% to 7%.
In December 2011, Areva suspended building work at several sites in France, Africa and the United States, one day after forecasting a €1.6 billion loss. Areva halted "capacity extensions" at its La Hague Reprocessing Plant, in northern France, at its Melox factory in the southwest and at two sites attached to its Tricastin power plant in the south. Work has also stopped on extensions to uranium mines in Bakouma in the Central African Republic, Trekkopje in Namibia and Ryst Kuil in South Africa, and caused a potential delay in construction until a capital solution is secured for the Eagle Rock Enrichment Facility in the United States.
As of 2012, the disastrous UraMin mining deal and allegations of spying are holding Areva back as it struggles to recover from last year's Japanese Fukushima nuclear disaster, and they risk embarrassing France's president as he bids for re-election.