Bayer Leverkusen logo vector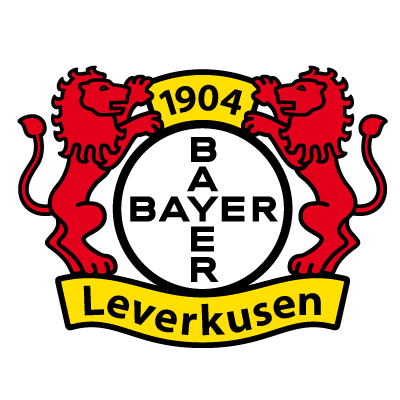 About Bayer Leverkusen
Bayer 04 Leverkusen, also known as Bayer Leverkusen, Leverkusen or simply Bayer, is a German football club based in Leverkusen, North Rhine-Westphalia. It is the most well-known former department of TSV Bayer 04 Leverkusen, a sports club whose members also participate in athletics, gymnastics, basketball and other sports including the RTHC Bayer Leverkusen (rowing, tennis and hockey). In 1999 the football department was excluded from the club and called the Bayer 04 Leverkusen GmbH. Bayer Leverkusen's local rivals are the 1. FC Köln.
On 27 November 1903 Wilhelm Hauschild wrote a letter – signed by 170 of his fellow workers – to his employer, the Friedrich Bayer and Co., seeking the company's support in starting a sports club. The company agreed to support the initiative, and on 1 July 1904 Turn- und Spielverein Bayer 04 Leverkusen was founded.
On 31 May 1907 a separate football department was formed within the club. In the culture of sports in Germany at the time, there was significant animosity between gymnasts and other types of athletes. Eventually this contributed to a split within the club: on 8 June 1928 the footballers formed a separate association – Sportvereinigung Bayer 04 Leverkusen – that also included the handball and fistball players, athletics, and boxing, while the gymnasts carried on as TuS Bayer 04 Leverkusen. SV Bayer 04 Leverkusen took with them the club's traditional colours of red and black, with the gymnasts adopting blue and yellow.
Through this period, and into the 1930s, SV Bayer 04 Leverkusen played third and fourth division football. In 1936, they earned promotion to the second highest class of play of the period. That was also the year that the club wore the familiar "Bayer" cross for the first time. They made their first appearance in upper league play in 1951, in the Oberliga West and played there until 1956, after which they were relegated. SV Bayer 04 Leverkusen would not return to the upper leagues until 1962, just one season before the formation of Germany's new professional league, the Bundesliga. The next year saw the club in the Regionalliga West, tier II, where their performances over the next few seasons left them well down the league table.
Another vector logos: