Corinthians logo vector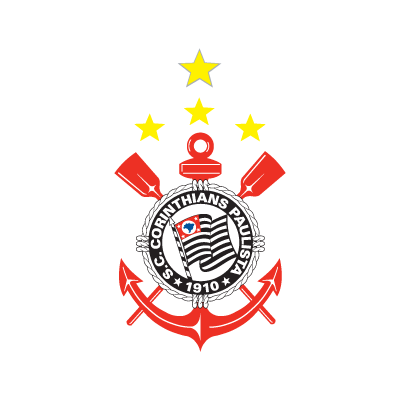 About Corinthians
Sport Club Corinthians Paulista, commonly known as Timao or Coringao, is a Brazilian multisport club based in the bairro do Tatuapé, which is located in the city of São Paulo. Although they compete in a number of different sports, Corinthians is mostly known for its association football team. They play in the São Paulo state league, as well as the Brasileirão, Brazil's top national league. Corinthians are the reigning World and South American club champions, having won the 2012 FIFA Club World Cup and the 2012 Copa Libertadores.
The club was founded in 1910 by five railway workers from the bairro nobre of Bom Retiro, who became impressed by the performances of London-based club Corinthian Football Club, electing Miguel Battaglia as the club's first president. Since then, their popularity has greatly increased in Brazil. Between 2004 and 2007, three different surveys were conducted by the research firms Ibope, Data Folha and CNT/Sensus to measure which was the favorite football team in Brazil. According to the results, Corinthians was preferred by 13.2% to 14% of the Brazilian population, which represents approximately 24 to 26 millions fans in Brazil
Corinthians are one of Brazil's most successful clubs, having won the have the Brasileirão on five occasions. The Timão also contain in their laurels three Copa do Brasil trophies, one Supercopa do Brasil, two FIFA Club World Cups and one Copa Libertadores, the most prestigious laurel in South America. They have also won the Campeonato Paulista 26 times and the Torneio Rio – São Paulo on five occasions, being the record-holder as the most successful club in those competitions. The club managed to perform a double in 1999, winning both the Paulista and the Brasileirão.
The Timão play their home games at the Pacaembu, which currently holds up to 40,199 spectators. In 2013, Corinthians are due to move to their new home of Arena Corinthians, which will have a capacity of 48,000. Corinthians' home kit is white shirts, with black shorts, accompanied by white socks, this combination has been used since 1920. Nike are the kit manufacturers.
Corinthians is Brazil's richest football club in terms of revenue, with an annual income of R$293m in 2011, and the most valuable club in the nation, worth over R$1.005B in 2012. There are also several Corinthians' organized fan clubs of football factories, among them Gaviões da Fiel, Camisa 12, Coringão Chopp, Pavilhão 9 and Estopim da Fiel.
Another vector logos: