Gamesa logo vector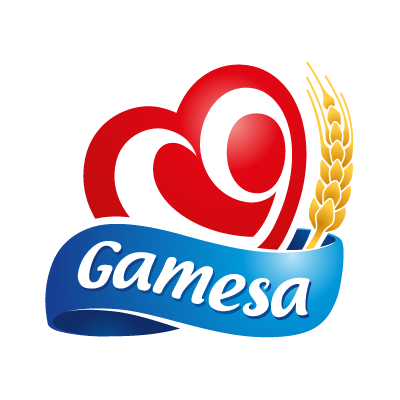 About Gamesa
Gamesa is Mexico's largest manufacturer of cookies . The company also makes pasta, flour, ready to eat cereals and other related products. It is headquartered in San Pedro Garza García, Nuevo León, and have production facilities in eight states across Mexico and one in Colombia. In 1990, they were acquired by PepsiCo, also owner of Pepsi and Sabritas in Mexico.
Gamesa also sells cookies in the United States, Central and South America.
Among their most successful brands are "Galletas Marías", "Emperador", "Arcoiris", "Mamut", "Chokis", "Trikitrakes" and "Maizoro".
Grupo Gamesa is currently the official sponsor or shirt sponsor for Primera Division team C.F. Pachuca as of the season of 2008.The club left behind Cemento Cruz Azul as their longtime sponsor.