Oakland Raiders logo vector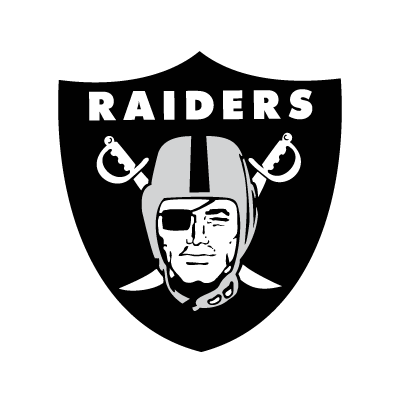 About Oakland Raiders
The Oakland Raiders are a professional American Football team based in Oakland, California. They were founded in 1960. For the first ten seasons of their existence, the Raiders belonged to the American Football League; they have been members of the National Football League since the 1970 AFL–NFL merger. As of 2012, the Raiders belong to the Western Division of the American Football Conference.
Over fifty-two seasons of football, the Raiders have experienced a considerable amount of success. Entering the 2012 season the Raiders sported a lifetime record of 426-351-11, with a playoff record of 25-18.
In the club's first three seasons, the team struggled both on and off the field. In 1963, the Raiders appointed eventual owner/general manager Al Davis to the position of head coach. Under Davis' guidance, the team's fortunes improved dramatically. In 1967, the Raiders reached the postseason for the first time. Their playoff run ended with a loss to the Green Bay Packers in Super Bowl II. The Raiders' run of success intensified in the 1970s; during this time, they won six division titles. In 1976, the team captured its first championship by defeating the Minnesota Vikings in Super Bowl XI. In 1980, the Raiders unexpectedly won a second championship by defeating the Philadelphia Eagles in Super Bowl XV. Two years later, the franchise relocated to Los Angeles. In 1983, they defeated the Washington Redskins in Super Bowl XVIII to capture a third championship. The Raiders' fortunes declined considerably following the 1985 season; they would win just one division title and two playoff games over their final nine seasons in Los Angeles. In 1995, the team returned to Oakland. In the early 2000s, the Raiders experienced a massive resurgence; their renaissance culminated in a 2002 loss to the Tampa Bay Buccaneers in Super Bowl XXXVII. The team struggled significantly in the years following the Super Bowl loss. While the Raiders' fortunes have nominally improved in the 2010s, they have not reached the playoffs in nine seasons. They most recently finished 8-8 in 2011.
Today, the Raiders are known for their extensive fan base and distinctive team culture. Since 1960, the team has won fifteen division titles, three Super Bowls, four AFC titles and an AFL Championship. Thirteen former members of the team have been enshrined in the Pro Football Hall of Fame.
Another vector logos: