F.C. Porto logo vector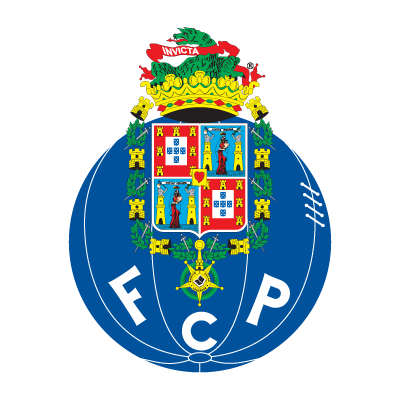 About F.C. Porto
Futebol Clube do Porto MH IH MH OM, commonly known as FC Porto, Porto, or FCP, is a Portuguese multi-sports club from the city of Porto, in the northern region of the country. Although they successfully compete in a number of different sports, FC Porto is mostly known for its association football team. Founded in Porto in September 28, 1893, it is one of the "Três Grandes" , football clubs in Portugal, with SL Benfica and Sporting CP being the other two clubs, FC Porto's biggest rivals. FC Porto's supporters are often called "Portistas" or "Dragoes".
FC Porto is the most successful Portuguese football club in terms of total titles, with 72 titles, ahead of Benfica, which has 69 titles and ahead of Sporting CP, which has 45 titles. It is the second most successful Portuguese football club in domestic competitions, with 65 titles, behind Benfica, which has 67 titles, and ahead of Sporting, which has 44 titles, and the most successful Portuguese football club in international competitions, with 7 titles, ahead of Benfica, which has 2 titles, and ahead of Sporting and Braga which have 1 title.
Domestically, it holds the record of five Primeira Liga titles in a row, having won the Primeira Liga 26 times. Other national titles won by the club include the Championship of Portugal/Portuguese Cup 20 times and the Portuguese SuperCup 19 times. FC Porto has the distinction of being the second of only two teams in the history of the Primeira Liga to have completed an entire 30 game season unbeaten. In the 2010–11 season, FC Porto achieved the largest difference ever between champion and runners-up in a 3 points per win system.
FC Porto is an internationally lauded team, with a national record of seven international titles: the 1986–87 European Cup, the 1987 Intercontinental Cup, the 1987 UEFA Super Cup, thus becoming one of a few teams in the world to hold in possession three major international titles simultaneously and the only one in Portugal, the 2002–03 UEFA Cup, the 2003–04 UEFA Champions League, the 2004 Intercontinental Cup and the 2010–11 UEFA Europa League. In addition, FC Porto was runners-up in the 1983–84 European Cup Winners' Cup, in the 2003 UEFA Super Cup, in the 2004 UEFA Super Cup and in the 2011 UEFA Super Cup.
FC Porto was one of the founding members of the Primeira Liga in 1933, and, together with Benfica and Sporting, it has never been relegated from the First Division of Portuguese football. FC Porto was also one of the founding members of the disbanded G-14, and is a member of the European Clubs Association.