Recommend: >> 25 Famous Logos With Hidden Messages
FedEx logo vector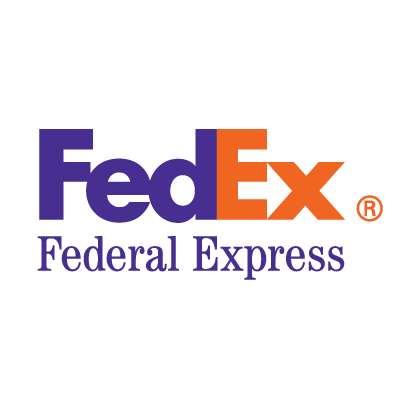 About Federal Express
FedEx Corporation, originally known as FDX Corporation, is an American global courier delivery services company headquartered in Memphis, Tennessee. The name "FedEx" is a syllabic abbreviation of the name of the company's original air division, Federal Express, which was used from 1973 until 2000.
FedEx Corporation is a Delaware corporation, incorporated October 2, 1997. FDX Corporation was founded in January 1998 with the acquisition of Caliber System Inc. by Federal Express. With the purchase of Caliber, FedEx started offering other services besides express shipping. Caliber subsidiaries included RPS, a small-package ground service; Roberts Express, an expedited shipping provider; Viking Freight, a regional, less than truckload freight carrier serving the Western United States; Caribbean Transportation Services, a provider of airfreight forwarding between the United States and the Caribbean; and Caliber Logistics and Caliber Technology, providers of logistics and technology solutions. FDX Corporation was founded to oversee all of the operations of those companies and its original air division, Federal Express.
In the 1980s, FedEx planned, but later abandoned, a joint service with British Airways to have BA fly a Concorde to Shannon, Ireland with FedEx packages onboard and then FedEx would have flown the packages subsonically to their delivery points in Europe. Ron Ponder, a vice president at the time, was in charge of this proposed venture. In January 2000, FDX Corporation changed its name to FedEx Corporation and re-branded all of its subsidiaries.
Federal Express became FedEx Express, RPS became FedEx Ground, Roberts Express became FedEx Custom Critical, and Caliber Logistics and Caliber Technology were combined to make up FedEx Global Logistics. A new subsidiary called FedEx Corporate Services was formed to centralize the sales, marketing, customer service for all of the subsidiaries. In February 2000, FedEx acquired Tower Group International, an international logistics company. FedEx also acquired WorldTariff, a customs duty and tax information company, TowerGroup and WorldTariff were re-branded to form FedEx Trade Networks.
Another vector logos: