About Triumph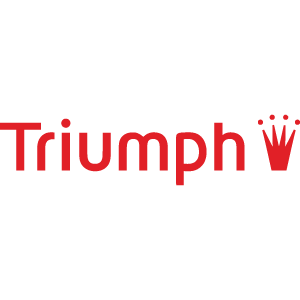 Triumph International is an international underwear manufacturer. Founded in Heubach, Württemberg, Germany 1886 by the two families Spiesshofer & Braun. The first foreign subsidiary was established in Zurzach, Switzerland which has become the company's headquarters. The multinational manufacturing and marketing organization operates in 120 countries around the world. It is one of the leading underwear producers in the world and in 2010 had an annual turnover of 2.2 billion Swiss francs, and over 36,500 employees.
By the 1950's Triumph had become "Triumph International" to reflect its worldwide standing and employed 6000 staff. They expanded rapidly into countries such as Britain, Italy, Belgium and Norway. With this growth into new countries, Triumph became established as Europe's top lingerie manufacturer.
In 1960, with the step into Hong Kong, the expansion into the Asian market began. In the same year, the Triumph workforce had grown to 14,000.
Soon the company had independent subsidiaries for swimwear, daywear and nightwear and new technological developments such as moulding and high frequency welding, used instead of traditional stitching, were revolutionising looks and possibilities for Triumph designers.