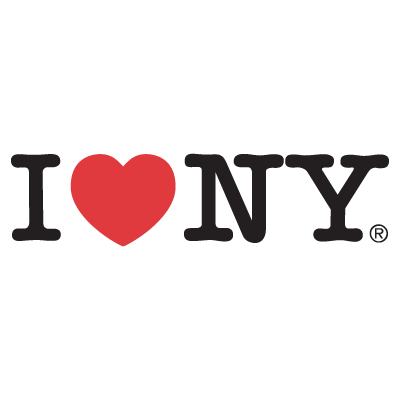 I Love New York is both a logo and a song that are the basis of an advertising campaign have been used since the mid-1970s to promote tourism in New York City, and later to promote New York State as well. The trademarked logo appears in souvenir shops and brochures throughout the state, some licensed, many not. The song is the state song of New York.
Logo
The logo is a rebus that was created by Milton Glaser and Bobby Zarem consisting of the capital letter I, followed by a red heart symbol (♥), below which are the capital letters N and Y, set in a rounded slab serif typeface called American Typewriter.
In 1977, William S. Doyle, Deputy Commissioner of the New York State Department of Commerce hired advertising agency Wells Rich Greene to develop a marketing campaign for New York State. Doyle also recruited Milton Glaser, a productive graphic designer to work on the campaign, and created the design based on Wells Rich Greene's advertising campaign. Glaser expected the campaign to last only a couple months and did the work pro bono. It was possibly inspired in part by the state tourism slogan Virginia is for Lovers which had featured a "Love" theme and red heart symbol (♥) since 1969. The innovative pop-style icon became a major success and has continued to be sold for years. In the popular mind (though this was not the original intention) the logo has become closely associated with New York City, and the placement of the logo on plain white T-shirts readily sold in the city has widely circulated the appearance of the image, making it a commonly recognized symbol.
The image became especially prominent following the September 11 terrorist attacks on the city, which created a sense of unity among the populace. Many visitors to the city following the attacks purchased and wore the shirts bearing the I Love New York logo as a sign of their support. Glaser created a modified version to commemorate the attacks, reading "I Love NY More Than Ever", with a little black spot on the heart symbolizing the World Trade Center site. The black spot approximates the site's location on Manhattan Island.
Another vector logos: