La Liga logo vector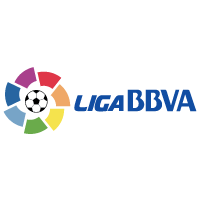 Spain Liga Nacional de Futbol Professional
The Primera División (First Division) of the Liga Nacional de Fútbol Profesional (LFP), commonly known outside Spain as La Liga or, for sponsorship reasons, Liga BBVA (BBVA League) since 2008, is the top professional association football division of the Spanish football league system. It is contested by 20 teams, with the three lowest placed teams relegated to the Segunda División and replaced by the top three teams in that division. A total of 59 teams have competed in La Liga, nine of which have been crowned champions.
Since the 1950s, Real Madrid and Barcelona have dominated the championship. Real Madrid have won the title a record 31 times while Barcelona have won it on 21 occasions. During the 1930s and 1940s and in the last two decades, however, La Liga has seen other champions, including Atlético Madrid, Athletic Bilbao, Valencia, Real Sociedad, Deportivo, Real Betis, and Sevilla. Barcelona have won the last three seasons of La Liga.
La Liga is currently the second strongest league in Europe after the English Premier League, according to UEFA's league coefficient. La Liga is one of the most popular professional sports leagues in the world, with an average attendance of 28,286 for league matches in the 2009–10 season. This is the sixth highest of any domestic professional sports league in the world and the third highest of any professional association football league, behind the German Bundesliga and English Premier League.
Another vector logos: