Lukoil/LUKoil  is Russia's second largest oil company and its second largest producer of oil. In 2009, the company produced 97.615 million tons of oil; 1.972 million barrels per day (313,500 m3/d).
Headquartered in Moscow, Lukoil is the second largest public company (next to ExxonMobil) in terms of proven oil and gas reserves. In 2008, the company had 19.3 billion barrels of oil equivalent per SPE standards. This accounts to some 1.3% of global oil reserves. The company has operations in more than 40 countries around the world.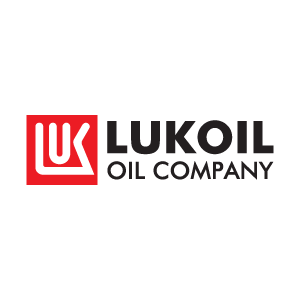 Lukoil was formed in 1991 when three state-run, western Siberian companies, Langepasneftegaz, Urayneftegaz, and Kogalymneftegaz, merged. The initials of the three companies are preserved in the name Lukoil. The central figure in the company's founding was the Soviet deputy minister of oil production Vagit Alekperov. He came to believe the only way Russians could compete against western companies was to copy their business model. That meant vertically integrating the three branches of the industry – exploration, refining, and distribution – that were strictly separate under the old Soviet system.
In 1994 Lukoil became the first company to begin offering shares of stock on the new Russian Trading System.
Another vector logos: