Monster Energy logo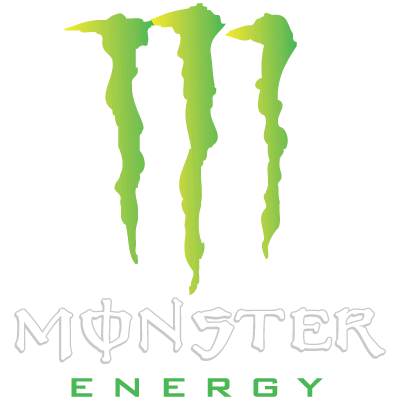 Among beverage logos, the Monster Energy logo enjoys one of the top positions thanks to its unique look that helps it stand out from the rest of the lot. The logo has an absolute 'monster' look considering its color, font and shape. It was designed by McLean Design, a California-based strategic branding and packaging design agency.
Shape of the Monster Energy Logo:
The Monster Energy drink logo imitates the claws of a monster that scratched a large 'M'.
Color of the Monster Energy Logo:
The neon green color of the large 'M' against the black background demonstrates the kick people get after consuming a can of Monster energy drink.
Font of the Monster Energy Logo:
The custom-designed font of the Monster Energy logo provides instant boost to the consumers and compels millions of people to indulge in its taste.
About Monster Energy
Monster Energy is an energy drink, launched by Hansen Natural in 2002. It comes in a black can with a colored logo. "Monster Java" was the first energy drink to be sold mixed with coffee.
There are now 27 different drinks under the Monster umbrella in North America including its core Monster Energy line, Java Monster, Extra Strength, Import and Rehab.
Monster Energy is advertised mainly through sponsorship of sporting events, including motocross, flag football, car racing, BMX, snowboarding and skateboarding. In 2006, Hansen Natural Corporation announced a distribution agreement with Anheuser-Busch in the U.S. and Grupo Jumex in Mexico.
In 2008, Hansen Natural Corporation announced that they were switching distributors from Anheuser-Busch to Coca Cola