Montblanc logo
This company, owned by three businessmen, Claus Johannes Voss, Christian Lausen and William Dziambor, in 1910, created the name after inspiration from the "Montblanc" mountain, which is the largest European mountain in France. They then developed a logo in 1913 and used a small circle-based design to depict the snow-covered tip of the mountain and the fine quality of the pens they manufacture.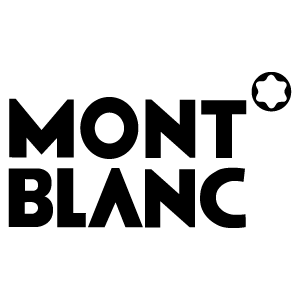 About Montblanc
Montblanc International GmbH is a German manufacturer of writing instruments, watches and accessories, often identified by their "White Star" logo.
A trademark identified with Montblanc is the white stylised six-pointed star with rounded edges, representative of the Mont Blanc snowcap from above, the symbol being adopted in 1913. The number "4810," the mountain's height in metres, is also a commonly recurring theme.
The star is also referred to as an edelweiss, an indigenous perennial that grows in the alpine forests and mountains of Europe. Less romantically, the star is also referred to as "the bird splat" by some fountain pen collectors.