Raleys logo vector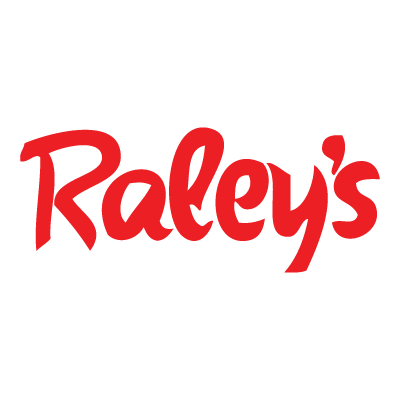 About Raleys
Raley's Supermarkets is a privately held, family-owned supermarket chain that operates stores under the Raley's, Bel Air Markets, Nob Hill Foods, and Food Source names in northern California and Nevada. Founded in 1935 by Tom Raley in Placerville as Raley's Drive-In Market, Raley's employs around 13,400 workers today. Headquartered in West Sacramento, California, Raley's is the dominant supermarket operator in the Sacramento metropolitan area.
Tom Raley ran the company until his death in 1991, and his family still controls it today. His daughter and son-in-law, Joyce Raley Teel and Jim Teel, are co-chairs of the board of directors, while their son Michael is president and CEO.
Raley's operates 130 stores, 40 of them in the Greater Sacramento area. Those stores control the city's largest market share: 28%, down from 30% in 2007 and 34% in 2003, according to Metro Market Studies of Tucson, Arizona. By comparison, other local market shares are Safeway at 16.7%, Costco at 11.9% and Save Mart at 9.2%. However, the company is suffering from increased competition in the region as well as the poor economy, and had more than 150 corporate layoffs in 2011 and closed several stores in 2012.
Supermarket News ranked Raley's No. 38 in the 2009 "Top 75 North American Food Retailers" based on 2008–09 fiscal year estimated sales of $3.4 billion, but for 2012 ranked Raley's at No. 45, down slightly from 2009, with sales, also down slightly, of an estimated $3.0 billion.
Consumer Reports surveys rank Raley's among the top U.S. supermarket chains, in particular for customer service. The same holds true for 2012, although the chain has fallen from number 4 nationwide in 2009 to number 8.
As of November 2009, three Raley's supermarkets had been awarded Greenchill Partnership Gold-Level Certification by the U.S. Environmental Protection Agency for environmentally friendly refrigeration technology.
Raley's also operates 11 Aisle 1 gas stations.
Raley Field, home of the Sacramento RiverCats, the Triple-A affiliate of the Oakland Athletics, is located in West Sacramento and is named after the chain.