SG Dynamo Dresden vector logo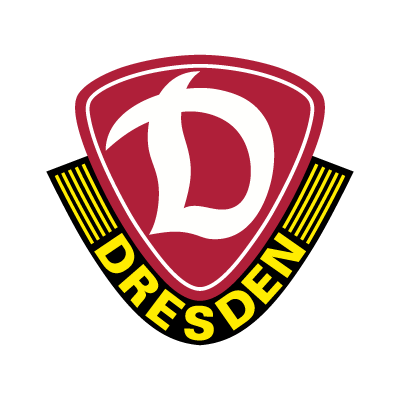 About SG Dynamo Dresden vector logo
In 1950, Dresden's most popular local club, SG Friedrichstadt, ran afoul of the occupying Soviet authorities as being too bourgeois and not properly representative of East Germany's new socialist society. After their appearance that year against Horch Zwickau in a farcial national final manipulated by the authorities, the club was broken up and its players exiled to other cities with many fleeing to the west. What was left of the club was tacked onto the worker's side BSG VVG Tabak Dresden that April.
Sportvereinigung Deutsche Volkspolizei Dresden was established after the war in October 1948 and was groomed as an ideologically safe "replacement" side for the city after the dismantling of SG Friedrichstadt. In July 1950, 17 players from 11 other police-sponsored clubs, most of them from SG Mickten, were delivered to SV DVP Dresden to create a competitive team playing in the green and white of Saxony. The new club soon enjoyed some success; they began to attract a following and inaugurated a new stadium, won the FDGB Pokal (East German Cup) in 1952, and sent their first representatives to the national side.
The club was formally re-established as SG Dynamo Dresden on April 12, 1953 in the cinema Schauburg and changed its colors to wine-red and white. It was part of Sportvereinigung Dynamo, one of a group of multi-sport clubs built on the Soviet model to promote sport for political and nationalistic purposes. Each of these societies was affiliated to or identified with a sector of the national economy or government: in the case of Dynamo that affiliation was with the state security and police forces, including the Stasi (Ministry for State Security).
Erich Mielke, head of the Stasi, was upset that Dresden was represented in the top-flight national league by several good sides while Berlin did not have even one. In late 1954, Dynamo Dresden was packed up and moved off to the capital to become Berliner FC Dynamo. What was left of the team – reserves and younger players – ended up as a 2nd division side which fell to tier III after just one season of play. They made their way back to the 1st division in 1962.
From December 1965 to January 1966, 11 East German clubs including Dresden were separated from their parent sports clubs to be designated as football-only "focus clubs" where the country's best talent would be transferred with the object of developing players for the national team. In 1968, Dynamo Dresden took on the current team colors of black and yellow, the city colours of Dresden. They soon emerged as one of the DDR-Oberliga's best sides, enjoying a run of five championships and two Cup wins in eight years from 1971 to 1978 under trainer Walter Fritzsch. During this time Dresden was the country's most popular side, regularly drawing crowds of 25,000, when most other clubs were attracting less than a third of that.
Dresden and the rest of the league then came hard up against Stasi-sponsored Dynamo Berlin. After a decade-and-a-half of football that had been relatively free of interference from above, there would not be a real opportunity to challenge for the title on fair terms for a decade as circumstances were manipulated in favour of Mielke's pet side: between 1979 and 1988, Dynamo Berlin won 10 consecutive titles. Dynamo Dresden earned six second-place finishes in that same period and could take some consolation in becoming East Germany's top performing side internationally. Once the hold of the secret police on the nation's football was loosened, Dynamo Dresden started winning titles again, making the double (national and cup titles) in 1989 and 1990.
After German re-unification in 1990 the club was briefly re-named 1. FC Dynamo Dresden. Following the subsequent merger of the East and West German leagues, they played for four years in the top flight Bundesliga, always finishing in the bottom half of the slate. A last place finish in 1994-95 led to relegation, compounded by financial problems that saw the club's president imprisoned for fraud. The club was denied a license and sent all the way down to Regionalliga Nordost (III). Dynamo then struggled for some time, at one point falling to the Oberliga Nordost-Süd (IV), before clawing its way back to the 2.Bundesliga in 2004, despite on-going financial problems. Dynamo played there for two seasons, but were relegated to the Regionalliga Nord (III) in 2006. The 2006-07 campaign saw the team involved in the race for promotion early on, but a disappointing second half resulted in only a 7th place finish. In the summer of 2007 the club re-adopted its old East German name to play as SG Dynamo Dresden.