Stoke City logo vector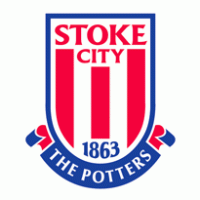 About Stoke City
Stoke City Football Club are an English professional football club based in Stoke-on-Trent, Staffordshire that play in the Premier League. Founded in 1863, they are the oldest club in the Premier League, and considered to be the second oldest professional football club in the world, after Notts County.
The club play in the Premier League after winning promotion in 2008; prior to this Stoke had not participated in top flight football for twenty-three years. Their first, and to date only, major trophy was won in the 1972 Football League Cup Final, when the team beat Chelsea 2–1. The club have won the Football League Trophy on two occasions, first in 1992 and most recently in 2000. The club's highest league finish in the top division is 4th, which was achieved in the 1935–36 and 1946–47 seasons. Stoke have competed in European football in 1972–73, 1974–75; and most recently in 2011–12. Stoke played in the FA Cup Final in 2011, finishing runners-up to Manchester City and has reached three FA Cup semi-finals, in 1899 then consecutively in 1971 and 1972.
Stoke's home ground is the Britannia Stadium, a 28,384 all-seater stadium reduced to 27,598 after segregation. Before the stadium was opened in 1997, the club was based at the Victoria Ground, which had been their home ground since 1878. The club's nickname is 'The Potters', named after the pottery industry in Stoke-on-Trent and their traditional home kit is a red and white vertically striped shirt, white shorts and stockings.