Wonder Woman logo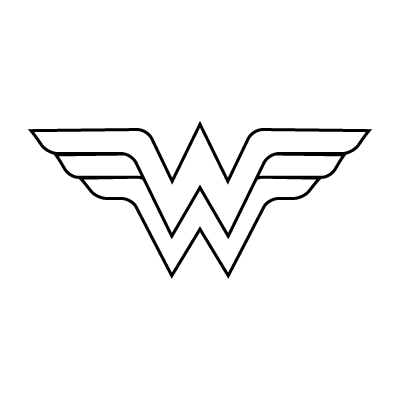 – Free download Wonder Woman logo vector in .EPS format
Wonder Woman is an American fictional DC Comics superheroine created by psychologist and writer William Moulton Marston. She first appeared in All Star Comics #8 (December–January 1941). The Wonder Woman title has been published by DC Comics almost continuously except for a brief hiatus in 1986. Her depiction as a heroine fighting for justice, love, peace, and sexual equality has also led to Wonder Woman being widely considered a feminist icon. Wonder Woman is a warrior princess of the Amazons (based on the Amazons of Greek mythology) and is known in her homeland as Diana of Themyscira. She is gifted with a wide range of superhuman powers and superior combat and battle skills. She also possesses an arsenal of weapons, including the Lasso of Truth, a pair of indestructible bracelets, a tiara which serves as a projectile, and, in some stories, an invisible airplane.
Created during World War II, the character was initially depicted fighting the Axis military forces, as well as an assortment of supervillains. Since then, Wonder Woman has gained a formidable cast of enemies bent on eliminating the Amazon, including classic villains such as Cheetah, Ares and Alkyone and The Circe and newer ones like Genocide and The Circle, as well as many gods and monsters from Greek mythology. Wonder Woman has also regularly appeared in comic books featuring the superhero teams Justice Society (from 1941) and Justice League (from 1960).
In addition to the comics, the character has appeared in other media; most notably, the 1975–1979 Wonder Woman TV series starring Lynda Carter, as well as animated series such as the Super Friends and Justice League. Although a number of attempts have been made to adapt the character to live-action film, none have yet emerged. An animated film was released in 2009, with Keri Russell voicing the title role. Attempts to return Wonder Woman to television have also faced problems, with a failed NBC Wonder Woman pilot in 2011 counting among more recent attempts. In September 2012, it was revealed that The CW, home of the long-running Superman TV series Smallville, was developing a potential Wonder Woman origin TV series titled Amazon. Wonder Woman has also appeared in the form of a variety of toys, merchandise and pin-up
Another vector logos: