Badtz Maru logo vector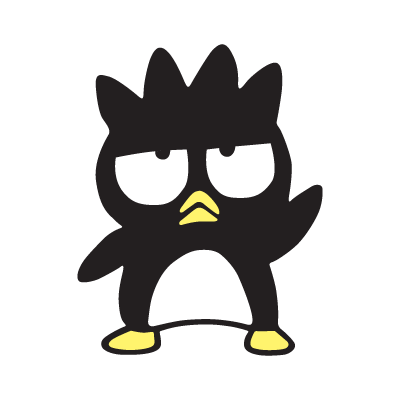 About Badtz Maru
Bad Badtz-Maru is a male penguin with spiky hair. His birthday is April 1. He is one of the few Sanrio characters that is marketed to both males and females. In Japanese, "badtz" is a term for "X", the cross signifying a wrong answer. "Maru" means circle or "O", and signifies a correct answer. Thus, his name figuratively means "wrong-correct," and is frequently represented by "XO". Badtz-Maru has many different facial expressions and poses, but a common expression is of pulling one eye down and sticking out his tongue, a gesture equivalent to blowing a raspberry. He is superior to other characters because he has a mouth.
Badtz-Maru also has a few friends such as Hana-Maru, a friendly white seal. Hana-Maru is very kind in nature and is very helpful to all. Badtz-Maru also has another friend called Pandaba, a female panda who wears a red bikini skirt and likes Badtz-Maru. Badtz-Maru also has a 'watch dog' named Pochi, but instead of being a real dog, Pochi is in fact, an alligator. Other friends of his include Mochizuki Anko, Nogakigoro, and Ogawasameo.
Badtz-Maru has gone through many product lines since his release at Sanrio in 1993. While he has far fewer releases than Hello Kitty, he has been a staple character found in almost all stores worldwide. He has been portrayed as an astronaut, motorcyclist, DJ, camouflage monster, basketball player, boxer, and others. His products range from typical stationery supplies to more novel items
Badtz-Maru was the official mascot for the 2006 FIBA World Championship of basketball, which was held in Japan.
Another vector logos: